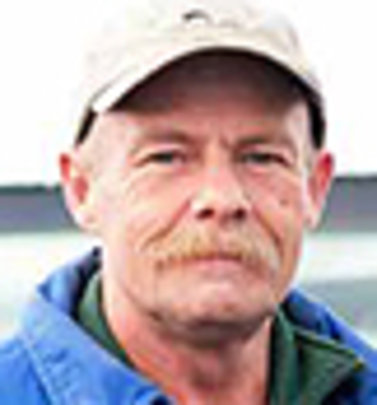 Greetings,
Hunger relief is a year-round effort and we thank you for your continued support. During the holidays our hearts are filled due to the outpouring of community support through food and financial donations as well as volunteerism.
We could not do what we do without the incredible community investment. Last year, volunteers donated over 160,000 hours at Oregon Food Bank! Volunteer efforts assisted us in delivering over 36 million meals throughout Oregon and Clark County, Wash. Nearly a quarter of the food being delivered is purchased through donations made by donors like you. $10 allows us to acquire and distribute one food box which typically feeds a family of four for three to five days.
Why do we do this? We do it for people like Tim.
I've been an auto diesel mechanic for 30 years, but I do everything—carpentry, tractors, cattle, farm work—anything I can find. I work on a cattle ranch every spring, and last year we branded over 300 head of cattle. In Burns, we all do hard jobs like building fences and digging ditches, but that ditch-digging job isn't there anymore.
I skip meals every day because my SNAP benefits don't last through the month. One hundred dollars is gone in no time. The food bank helps me get through.
I was staying with my mother when she died. That was a rough time. I had no food, no money, no nothing. I inherited the house but had to pay the back taxes to keep it, so my only choice was to live for almost four years without electricity or water. I did it to save the house. Otherwise I would have been homeless. I'm out of that situation now and at least now I've got power and water.
Summer's not too bad because there's ranch work, but in the winter there's not much here. I take every odd job I can find. Winter's coming on right now and I might have a choice between water or lights. Hopefully work comes up and I won't have to make that decision this year.
Thank you for joining our efforts to eliminate hunger and its root causes.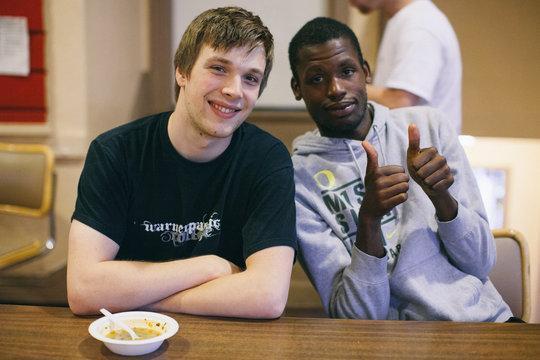 Friendly people draw others to Clay Street Table
How do you create community for people struggling to make ends meet or those who are homeless? At Clay Street Table volunteers from nearby churches, schools, civic groups, and the community, help run a meal program and pantry at St. Stephen's Episcopal Church in southwest Portland. They serve about 2,000 meals each month.
What sets this program apart is the number of food recipients who are also volunteers. Local residents in low-income housing, as well as the homeless, join forces with volunteers under the direction of Rev. Dr. Paul Davis. Rev. Davis welcomes everyone who enters the door as a friend. His infectious energy gets people working together, blurring the lines between haves and have-nots.
To build skills and foster community, pantry recipients can take part in the Cooks Supper program. Class participants start each session by cooking dinner for as many as 150 homeless youth who are part of The Underground, a community for unhoused youth aged 14-25 years. Executive Director Ken Loyd organizes local college students to serve the meals. This combination of education, service and food is the basis for a strong community among people who might never have made a connection.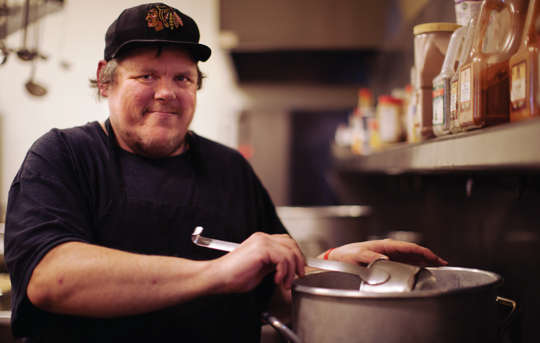 Do you remember who taught you how to cook? Was it your mom or maybe your grandfather? Even if you don't consider yourself a good cook, you probably learned some skills to make a healthy meal. Meet Sidney. Through the efforts of the Multnomah County Health Department, he and a group ofdiabetic and pre-diabetic community members recently completed Share our Strength's Cooking Matters™ classes taught by Oregon Food Bank's Nutrition Education Program. These classes are offered to low-income individuals through Oregon Food Bank's partnerships with social service organizations. In Sidney's case, his condition isn't the only challenge he faces; he's also homeless and accesses emergency services to survive. Despite these obstacles, Sidney helps prepare food for hundreds of people who visit the dining hall at St. Francis of Assisi. But what really inspired Sidney were the volunteers who taught the Cooking Matters course. After the first class, he asked the St.Francis cooks if he could prepare the healthy turkey chili recipe for his fellow diners. They gave him the opportunity to fix this meal for over 150 people. Now there's a special folder at St. Francis with all of Sidney's recipes from his cooking class. Cooking Matters gave Sidney a feeling of hope and the experience of community. It's donors like you that give people like Sidney the opportunity to take a course on healthy cooking that in turn will impact his health and the health of hundreds more.
WARNING: Javascript is currently disabled or is not available in your browser. GlobalGiving makes extensive use of Javascript and will not function properly with Javascript disabled.
Please enable Javascript
and refresh this page.