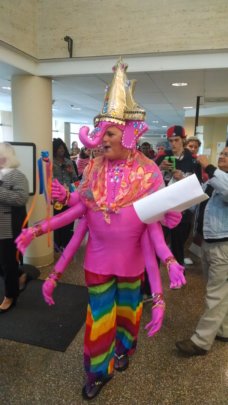 Fall can be a magical time. Crisp, autumn air; new school clothes and books; seeing old friends missed over the summer and meeting new ones. It can also be a terrible time. A reminder that you don't fit in, that your most authentic self isn't acceptable, let alone valued or affirmed.
The numbers are staggering. Truancy, violence, homelessness. Especially for transgender and gender creative children and youth. Consider:
https://www.youtube.com/watch?v=tInLr6RX_zA
At the same time, and largely because of people like you, there is hope.
A 2014 study demonstrated that lesbian, gay and bisexual youth who receive support both at home and at school reported higher levels of life satisfaction and self-esteem than their straight peers. Wow. Who would have thought?
Emerging research regarding transgender and gender expansive children demonstrates that when kids are allowed to express their authentic, gender-creative selves, they flourish. They are happy, healthy, well-adjusted, regular kids with their own unique and creative gender web.
It's because of people like you that the world is changing. Individuals like you who are either actively doing the work – or actively helping to ensure that the work gets done through well-timed and generous donations.
As the leader of an organization that works all year round to ensure that LGBTQA youth are welcome, valued and affirmed, I feel extraordinarily grateful for you. I know that my life's work is possible because you care enough to support it. I know that the lives we change, the environments we transform and the differences we make are due to you.
This update is not a request for money. It is a recognition that you matter, and an opportunity to tell you just how much.
Thank you for all you make possible for LGBTQA youth with your support of True Colors. We are deeply honored to work with you.