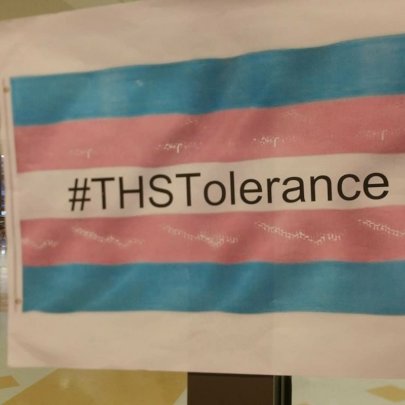 Dear Friend of True Colors,
The fourth quarter is always a busy one here at True Colors. We began organizing for our (25th!) annual conference, still the largest LGBTQ youth issues conference in the country with over 3,500 attendees each year. Schools are back in session so our work with school based sexuality and gender alliances (GSA) launches into full swing in this quarter. We hosted 35 activities for youth with more than 300 participants. We conducted consultation site visits with students in Ansonia, Branford, Hartford, Woodbridge, Enfield, Bridgeport,Windsor, Waterbury, New Britain, Bloomfield, Manchester, Putnam, Trumbull, New Haven and Waterford.
One GSA advisor said, "The positive attitude your visit brought us has lasted all through the winter vacation break. Your guidance has assisted us in being a more united club. We will be reaching out to you in the future about coming back to visit with us."
One of the events we produce each quarter is called Muse Uprising, a youth open mic event. Youth come together to support one another, as well as challenge themselves to try new things and push their limits in a healthy way that encourages them to grow and find their voice. We watch this happen every time. The audience cheered and clapped with the beat to encourage whoever was up. People who swore they'd never perform in front of an audience ended up doing just that! In our October event:
One young trans girl whipped her hair off during a song about not having to hide;


Two girls who never came before took turns being one another's 'mic stand' and holding their notebooks or phones so the person performing could read off them;


Mentees who never speak in front of the group got on the microphone.



Jace, who loves to make witty side comments but is incredibly shy if the attention is actually on him, got up to sing—he faced the wall instead of the audience for the entire time, but he did it!


Mike, who seldom speaks in the group (sometimes he asks his mentor to even share his name and pronouns during the ice breakers so he doesn't have to speak out loud at all), said he would perform if his mentor performed, so they both did separate pieces and made it through the entire song.
You know what makes these incredible moments possible? You. Our donors. All of our youth leadership work is supported solely through the generosity of people like you. We don't have our 2017 numbers yet, but we expect them to exceed our 2016 numbers. In 2016, you directly helped us support more than 1,400 LGBTQ youth. Altogether, because of you, and others like you, True Colors True Colors directly touched 12,263 lives.
Youth Leadership: 1,460 youth with 107 social/recreational activities, 8 high school summits and 26 Genders/Sexualities Alliance (GSA) visits


Conference: 3,879 participants from 10 different states, 11 colleges, 110 high schools, 3 middle schools, 285 presenters, 232 volunteers…


Mentoring: about 40 mentors/mentees – smaller numbers but huge outcomes!


Training: 6,654 educators, social workers, administrators, across CT and nationally


Safe Harbors: Statewide policy and programming task force in collaboration with DCF


We couldn't do what we do without you. We are incredibly grateful!