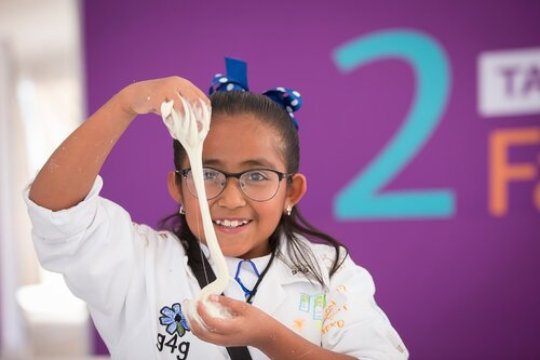 It's hard to believe that we are already at the beginning of February, and rocketing into 2020 already! We hope you know that your contribution to support the work we do around the world has had a lasting impact – on us and the girls we have been lucky enough to meet – and has contributed to an amazing result. We can't wait to tell you all about it!
Thanks to your help, it's been an absolutely globetrotting year which has been our biggest year yet! How big? Just this year alone we engaged 12,500+ children, 1,700+ role models at 75 events in 43 cities. We had the chance to launch in wonderful new places like Egypt with Nokia and the UAE with Covestro. We were honoured to be back for the 10th g4g Day in Brussels, the 5th g4g Day in Bridgewater, USA, and the 5th g4g Day in Krakow. For the first time ever, we hosted 8 simultaneous g4g Days in the same region of Andalucía thanks to our great partnership with Cisco, we launched our Passport to Invention activity during our annual Design Hackathon with AIG, and we visited over 10 cities across three continents with Stanley Black & Decker. This year, we also quadrupled the size of our STEM festival in India with Covestro, had more girls than ever at our g4g Day in Cincinnati with P&G, hosted countless new interactive workshops, and managed to break only one suitcase. You have helped make all that happen!
And if you want to see what it looks like on video, peek at our 2019 year here!
We want to take a moment to say thank you for choosing to support us, for taking time to value education for young girls, and for helping us encourage more and more girls to see their future in STEM. Thanks to you all, we have now reached a stratosphere level of engagement:
48,500+ participants
34 countries
8,000+ volunteer role models
330+ events
We wanted to share with you some of the wonderful messages we heard from our g4g girls and ambassadors around the world this past year:
"I was struggling, as a girl, as a woman, and after attending the event I though "wow, this could really make a difference." Sarah, g4g UK Ambassador
"Up until today, I didn't really give a second thought about it but now I see… science is pretty cool!" Samah, a g4g girl
"Thank you for inviting me, for having me, for inspiring me, and you know, really making me want to do more in STEM because I love it." Jessica, a g4g girl
"There is a lot of difference between what we are learning in class and what we do today. Today, I understood everything… and I enjoyed it!" Aparanjitha, a g4g girl
"It just depends on what your talents are, not your gender. And today has further proven that for me." Sophie, a g4g girl
"Thank you for providing such an inspirational day today. It was packed full of fun activities and inspired me to pay more attention in class and aspire to be something amazing. You have widened the possibility for many of us young girls alike to reach for our dreams and aspirations despite the fact that it might be a more male dominated career." Millie, a g4g girl
And now, it's time to look ahead!
Already at the beginning of February, we had the chance to launch our first Makerspace of the year on biomimetics where 20 children explored how to make their own microscope, build their own hologram pyramid using simple technology, and unleash their engineer side as they made their own video projector – eureka!! Last Saturday, we also launched for the first time in the Netherlands with our g4g Day in The Hague. We blasted off from the beginning of the day as we heard from communication specialists, aerospace engineers, rocket scientists, police, and educators to remind all 120 curious girls that "the sky is quite literally the limit!" Surrounded by more than 40 role models coming from the Britisch School in the Netherlands, NATO Communications and Information Agency, the European Medicines Agency, the European Space Agency, CoderDojo, Emerson, Women in Aviation in the Netherlands, and the Den Haag Police, the girls simply rocketed into science exploration. They had fun flying drones, patenting & approving medicine, coding with Scratch, exploring cyber forensics, extract human DNA, designing aerodynamic planes...and more!
In 2020, we hope to organise 75+ events, reach 15,000 girls and boys, and meet with 2,000+ role models. Curious to know what's ahead? We have Lisbon, Cambridge, Amsterdam, Seoul, Cameroon, and more locations in mind!
And, as usual, we look forward to sharing everything with you as we go along!