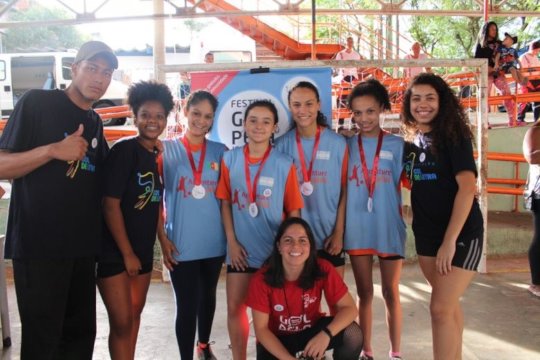 During the months of October, November and December 2018, the Goal for Equality project carried out actions involving students, teachers, young people and the community, promoting gender equality and empowerment of girls, using futsal as a tool for social transformation.
We currently serve 347 students, being 158 girls and 189 boys. The main activities performed in the period were:
Training sessions for the "Young Leaders" monitors on the following themes:
Community assessment to recognize existing resources, institutions and projects in order to strengthen the link between residents and territory

.

Prevention of sexual violence against children and adolescents

.
Specific training – Modality fundaments.

Vacation Marathon's planning and implementation: a time when young leaders planned and carried out activities for project students. It took place from November 26 to 30

.
Training on Referees Send Off Reports, Games Tables and Rules.
Young Leaders training delivered by Cityzens Giving's technicians, in the period of December 3 to 6.
Digital Inclusion Training – performed in the period of December 11 to 14.
Training session for the teachers team
Futsal classes:
Techniques - passing, reception, dribble, marking, finishing

;
Conversation Circle -

Socialization / Respect for space, friends and teachers / Collective spirit / Respect for rules / Respect for gender differences

;
Main Activities:

fast mini-championship; cooperative and recreational games; practice of the tactical system 3: 1; mini-game

1x1, 2x1, 2x2, 3x2.
Leisure Activities on Saturdays.

The space is open to the community offering recreational activities intentionally planned to foster inclusion in the perspective of gender equality.
The highlights of the quarter were:
WOMEN'S FUTSAL FESTIVAL – GOAL FOR EQUALITY
The Women's Futsal Festival Goal for Equality took place on October 27. The purpose of this action was to encourage the participation of girls in football. The attendants were girls from 8 to 17 years old, students from the Gol de Letra Foundation.
The objective was to develop life skills and empower young people to become leaders in their communities, with a strong emphasis on dialogue and conflict resolution.
Improved communication, decision-making and conflict mediation skills;
Better willingness to include others, regardless of gender, skills, age or knowledge;
Increasing respect for girls and women and enhancing gender equality;
Improved understanding of fair play, accountability and transparency.
TRAINING IN PREVENTION AND COMBATING SEXUAL VIOLENCE AGAINST CHILDREN AND ADOLESCENTS
To guide young monitors on how to identify risk situations in relation to sexual abuse and violence against children and adolescents; to inform them about campaigns and how to report issues.
GOAL OF CITIZENSHIP
The Goal of Citizenship is an event for families and the community, where several services are offered including Health, Legal, Citizenship, Gastronomy, besides Recreation and leisure activities.
The young monitors were responsible for the planning and execution of the recreation and leisure activities for children, adolescents and young people who participated in the event.
Total attendance: 297 people
GOL DE LETRA TOURNAMENT
The objective was to provide the participation of young leaders in the organization of a football sporting event. During the preparation process, the young leaders participated in specific training on the tournament regulation, refereeing, writing match reports (send-off/incident reports) and positioning of ball boys. During the event, the project team of educators followed the development of each young leader.