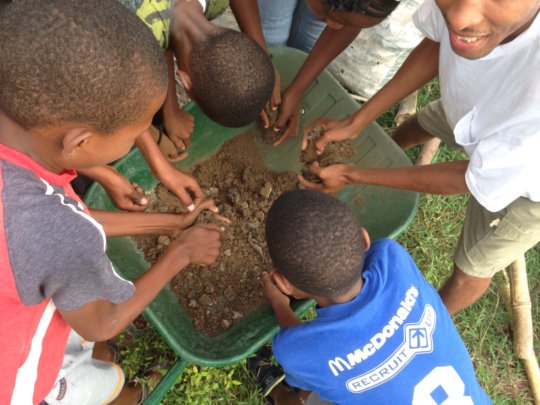 This fall, agricultural education took a big step forward in the secondary school of St. Paul's in Petit Trou de Nippes, Haiti. With the help of our new educator, Kenel Pierre, and visiting middle school teacher, Michael Jansa, classes began and both students and parents are involved.
Each middle school student receives one hour a week of ag. ed. and participates in weekly Saturday morning garden club. The students have begun their own garden and compost pile. Soon to come will be chicken coops and a small nursery to start different varieties of trees. In spring, the teaching team has an ambitious goal to start a goat project.
Kenel brings a different insight to teaching after spending a year in the US getting his master garden certificate. During his time in the US, he worked in a Portland, OR middle school specializing in experiential learning. This exposure has help Kenel bring hands-on learning to the students at St. Paul's. Everyone has their hands in the dirt or wrapped around the handle of a shovel!
During Kenel's first week on campus, he held a parents' meeting to talk to the families about what the students would be learning and doing in their agriculture classes. Approximately 100 people showed up for the meeting! And Kenel received valuable input from them on what was most needed for the students to help with the family's gardens.
We have also had the priviledge of expertise from an agricultural consultant, Agronom Emerson, with much experience and training in Haiti. He was with Kenel and Michael during their first week of classes and will continue to check in throught out the year to ensure a consistently high quality program.
We are thrilled that the 7th, 8th and 9th grade students have agricultural education as part of the curriculum now. In a rural, agrarian community, it serves the whole family to have a child learning the newest and best practices in agriculture.
PS- Younger students have been spotted and accepted into Saturday morning Ag. Club. I guess the WHOLE family is excited about ag. ed.!