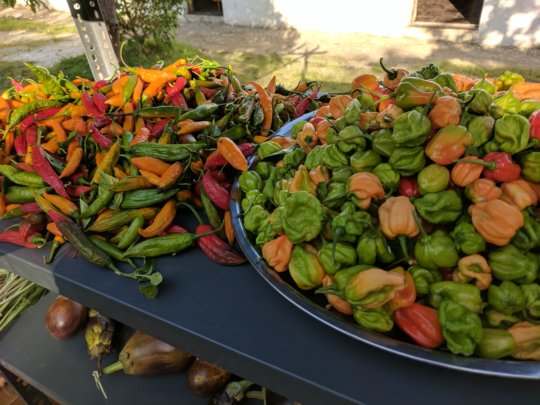 Every year, including this one, hurricanes threaten the Caribbean and the United States. It has been a year since Hurricane Matthew came through Haiti, and we have no reason to believe that the trend of powerful and devastating storms will be reversed. Knowing that these storms will continue to threaten the region, what can be done to protect those communities that have the most to lose and the least access to large scale investment, as they prepare for next year and beyond?
This year Haiti has been spared, comparatively speaking, though there was serious storm-related flooding in the North of the country. The 2016 Global Risk Index places Haiti as the 3rd most vulnerable nation in the world to extreme weather events. As we look for ways to minimize the risk associated with hurricanes, Haiti is a place of great need and great opportunity.
Last year, in response to Hurricane Matthew, CHP invested heavily in agriculture, planting trees, opening a seed bank, and strengthening agricultural education programs for students. By investing directly in local community agricultural structures, soil was conserved, local food systems were improved, and yields and profit margins increased for farmers, thus putting capital in the hands of local people as they recovered.
Haiti is often portrayed as a troubled and distant land, a world away and rife with intractable problems; a daunting place to invest resources. As a person who has worked there for the past seven years, I can promise you that the short-term hopes and long-terms dreams of parents and children in Haiti are not so different than those you'd find here in Colorado. This leads me to the Boulder County Farmers Markets.
The Colorado Haiti Project recently held an event at Lone Hawk Farm in Longmont, wherein Brian Coppom, director of Boulder County Farmers Markets, along with a sizeable group of local Colorado farmers, came together to show their support for small farms in Haiti. Brian and his fellow farming friends and colleagues engaged in dialogues around food systems, production, and seed quality and all present saw clearly that while miles apart, there is a great commonality between the goals of BCFM and the Colorado Haiti Project.
The Boulder County Farmers Markets website reads: Our farmers and ranchers grow what they sell. Today, the markets serve as community gathering events, provide nourishment to neighbors, boost sustainable agriculture and support the local economy. These goals are shared by the Colorado Haiti Project and our local leadership in Haiti. The most significant and most troubling difference is that for most Boulder and Denver residents, the alternative to healthy food, is unhealthy food. In rural Haiti, oftentimes the alternative to healthy food, is no food. The hopeful reality is that there exists in Haiti a long history of community-based and community-driven structures, families lending each other labor and resources – a community gardening and co-op system. This type of organizing is what the local food movement we see flourishing in our American communities is all about. Community gardens, farm to table initiatives, the sharing of seeds, the Slow Food movement are all working to reinforce here our connection food, connection to the land, and connection to each other. I find that the same people that are passionate about local food systems are also committed to the idea that we are not just a local community but a global one.
We hope and pray that Haiti makes it through the last few weeks of this brutal hurricane season without widespread damage. In the meantime, investment in rural Haitian communities is producing outputs for the environment, strengthening local defenses against climate events, placing capital in the hands of local families, and putting healthy food on tables.
In the face of Mother Nature and her overwhelming power, it's promising to realize that her beauty and bounty are part of the solution as well. In sifting through the news of today, it can be daunting to consider where to invest limited resources. I suggest, quite simply, that we invest in the land and its farmers. In doing so we find a chance to stand for some of our most important values, creating connection to our food, connection to the land, and connection to each other.