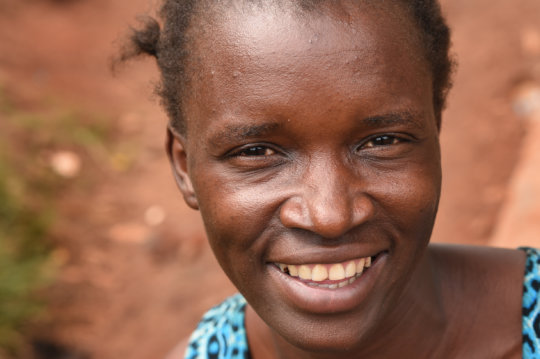 Meet Harriet.
Harriet was born in Northern Uganda, but the family fled to the Acholi Quarter when she was just two years old. She attended school through primary 6, but then her mother could no longer afford the school fees. With few opportunities, Harriet married young and has four children. Her husband has since left and abandoned the family. Like her mother, Harriet now must try to provide for her young children.
Industrious and entrepreneurial, Harriet finds many ways to earn money. She sells mangos in the city center. She also has an ingenious business making a prepared dish consisting of the head of a cow, boiled and cooked with tomatoes and onions, a favorite among those who are drinking.
She passes by nearby bars in the evening and finds ready customers. Harriet is also a prolific and talented maker of recycled paper bead jewelry. With a loan, she will have more money to invest in the capital needed to expand each of her existing businesses.
Although Harriet finds creative ways to support her family, she hopes to return to the North. She dreams of setting up a small shop selling vegetables, that she will grow herself. To augment her income, she can make clothes. Her mother is a tailor, and although Harriet did not study formally, her mother taught her well.
Her children have their own dreams too. One wants to become a doctor, another a teacher, the third a hairdresser. Her youngest daughter states simply that she "wants to find a rich man." Harriet earnestly wants her children to succeed. "My children should study very hard so their future is better. I put it in the hands of God. I want them to have a better life."
A donation of just $25 gives a woman the power to build her own future.