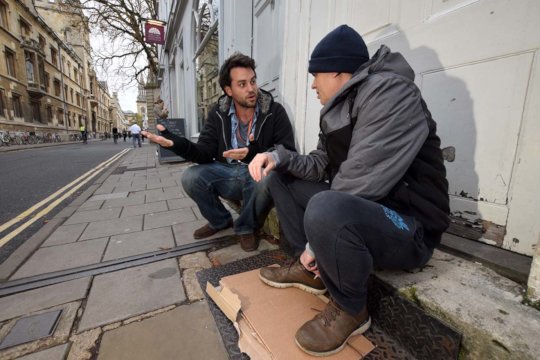 We are extremely grateful to everyone that has supported our work through GlobalGiving. Your commitment across the last four months to help us respond to the Covid-19 pandemic, and protect people experiencing homelessness has been life-changing.
Around 4,700 people sleep on the streets of England on any one night. Many of those we work with have health conditions, including respiratory problems, relating to time spent sleeping on the streets which put them at especially high risk from Covid-19. They have no home to self-isolate in and many of the mental and physical health services they rely on are closed. The longer this crisis continues, the more people will need our help; with businesses closed, people are losing their livelihoods and accommodation. This coupled with a drastic increase in domestic abuse incidents means that we are seeing distressing numbers of people continuing to turn to the streets. This pandemic has been devastating to people experiencing homelessness, but thanks to your support we are responding.
Emergency outreach for those at high risk
We are thankful that our staff have been classed as essential workers during this crisis, allowing them to continue their crucial work of focusing on the safety and welfare of people who are rough sleeping or in emergency or temporary housing. Our hostels and supported housing have remained open during restrictions, introducing extra measures to enable social distancing and protect residents.
The most pressing and immediate need has been helping those on the streets and in emergency hubs with communal sleeping spaces to be able to access safe accommodation where they can self-isolate. St Mungo's outreach teams and our charity partners have helped people into block booked hotels across the south of England, including:
Over 1,000 people in London
280 people in Bristol
Over 100 people in Brighton
88 people in Reading
121 people in Oxford
100 people in Bournemouth
Once safely inside, your generosity has allowed us to stay with people beyond this point. During the crisis we have provided healthy meal deliveries to those who need them, with over 200,000 meals delivered in total. To protect all those we work with across the South of England and our staff, your support has also helped provide desperately needed PPE including gloves, masks and aprons.
"Everyone is scared; their whole world is changing in ways they don't totally understand. But there have been some brilliant successes: people who have been out on the streets for more than 20 years are finally taking up our offers of help – they've understood that we are there in their times of need."
- Kath Sims, Head of Outreach
Ensuring people do not have to return to the streets
Among those in hotels there are people who have spent years homeless and declining help previously. This is an almost unprecedented chance to work together with them to address issues related to their homelessness including mental and physical health, and a lack of skills and employment opportunities.
To this end, we have worked hard to develop our Recovery College, in to a remote service so that people can continue to get the help they need to build skills and find employment, both in hotels and their next-step accommodation. Sessions and activities are available for life skills, such as home management and budgeting, digital inclusion, arts and music, health and wellbeing, maths and literacy, and English for speakers of other languages (40% of those in hotels are EEA nationals so ESOL needs are common). We operate through individual and group activity sessions over Google Hangouts, phone and a private YouTube channel. We translate education materials and use Language Line translation services. Employment Specialists build on this with help for: career guidance, job searching, CV preparation, interview skills, coping strategies and confidence building.
Next Steps
The Remote Recovery College will continue to expand, adding more courses

a

nd rolling them out to be available to everyone who is being supported by St Mungo's.
As the nation begins to re-open, we will work to transition those we are supporting away from emergency provision and towards more sustainable and long term support. We will begin to wind down our food deliveries as part of this process.
Hotels are preparing to return to normal business and government funding for hotel stays will be coming to a close. We are exploring alternative emergency accommodation options for those people who do not yet have somewhere safe to move on to —we must avoid people being forced back onto the streets at all costs.
Your support in action: Aries' story
Aries is a former nurse who is staying one of the hotels we are supporting. Forced to give up work because of a degenerative spine condition, she had moved in with relatives who abused her so much she tried to kill herself. After two months in a psychiatric hospital, she ended up on the streets, sleeping two nights in a hospital A&E then one on night buses until she was directed to Hackney winter night shelter.
"I was really worried about the coronavirus. As a diabetic and asthmatic I'm vulnerable and in the hostel it was all shared facilities."
She was delighted when she was moved to the hotel and given a phone on which counsellors from St Mungo's speak to her every day.
"To be honest it's a real godsend, I spend the day watching news and doing cross-stitch — I've done 18 pieces since I got here including one saying 'stay at home', and one for a fellow resident, Emma, whose birthday was on Friday."
"It's giving me a chance to think about my future, I'm hoping to get my life back together and do something useful. I'd like to go back to school and become a social worker."
Working together, we are helping people like Aries to stay safe, recover from homelessness and rebuild their lives, now when they need us most.
Thank you.