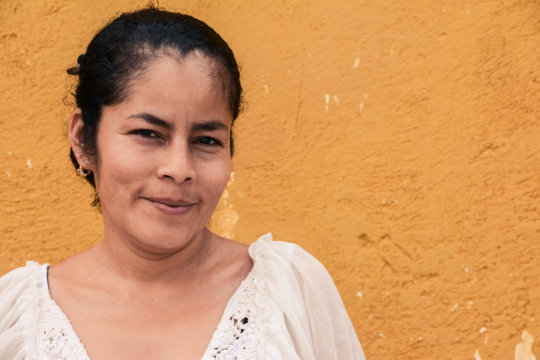 One of WINGS' longest-standing programs is our network of roughly 35 Volunteer Health Promoters: community leaders identified within underserved rural areas to be a local point of service. Through their intimate linguistic and cultural knowledge of the communities they serve, they are able to provide quality contraceptive counselling, low-cost short-acting methods, and referrals to WINGS medical clinics for additional services.
Our Volunteer Health Promoter, 40 year old Enma Rodas, started with WINGS 5 years ago after being referred by a friend that was in the program at that time. She has become one of our strongest supporters, advocating for reproductive health in Guatemala: "Family Planning means everything to me. It helps us in every single aspect of life and thanks to it, I have a better life. My siblings have a better life. My community has a better life. Everyone is better."
Enma serves the community of San Pedro Yepocapa in Chimaltenango. She used to sell cosmetic lotions in her community and started promoting contraceptive methods to her clients. Now she has around 40 patients. "I bring everything I learn from WINGS to my village. Now, after all this time, I see meaningful changes in the women that are using a contraceptive method. They are happier because they can enjoy their lives without being afraid of getting pregnant."
San Pedro Yepocapa is a poor community and most of Enma's patients are unemployed or work as farmers. She explains that promoting reproductive health to village elders is extremely difficult, since they believe many myths and are closed minded regarding contraceptives. "They say, for example, that anyone who uses the birth control injection will accumulate filth in her stomach and it will make her fat. It is hard to stop the rumors," she explains.
Enma's mother had 10 children but 3 of them died as children. Enma wanted to have 2 children, but she ended up having 3. "When my last daughter was 6 months old, I got a tubal ligation and it was the best decision of my life. I feel that I still have a lot of energy and I can fully enjoy my children, who are already teenagers!" She has two sons, 20 and 17 and a daughter who is 16 - she is proud that she talks about reproductive health with all of them. They, as well as her husband, are totally supportive of her.
She recognizes that working with WINGS means facing some hard moments. "Every patient reacts differently to each contraceptive method and sometimes they are scared, but I always try to calm them." She loves to be part of this journey and she sees the rewards. "One of my patients is a 30 year-old woman with 8 children. I tried to convince her for long to use a contraceptive method. Now she is truly thankful to me and WINGS for helping her. Before she had no time for herself and her body was going through many changes. Now she is gets a monthly injection and she is happy because she feels self-confident and young again."
Links: