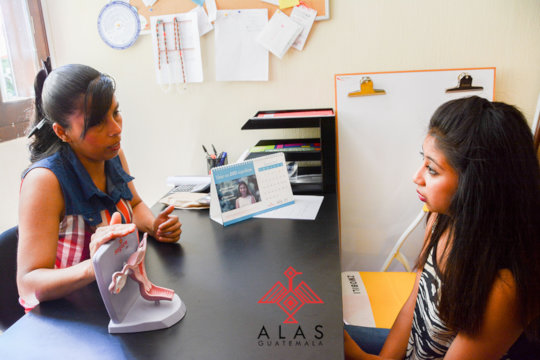 The past few years have been filled with strategic changes for WINGS, all with the aim of streamlining services to further our reach while becoming more cost-effective. Our expertise in both service provision and reproductive rights education is well-known throughout the country. By focusing on patient-centered, rights-based care, WINGS has positioned itself as the provider of choice for many women and men in Guatemala. Stories shared with us during clinics or promotional talks make it clear that people are talking positively about WINGS and referring friends and family to our services.
Internally, we continue to put rights-based practices at the very core of everything we do. Our Board of Directors and staff have ongoing conversations and training sessions about how we can best uphold rights-based care principals and improve our care for all our clients.
WINGS is working toward becoming a leader in rights-based care in Central America. We are guided by best-practice and global experts, including Family Planning 2020 (FP 2020), a global partnership that supports the rights of women and girls to decide, freely, and for themselves, whether, when, and how many children they want to have.
FP 2020 asserts that "rights-based family planning turns the focus to the rights of individuals and couples to decide freely and responsibly the number and spacing of children with quality sexual/reproductive health information and services to do so without facing discrimination or inequality."
For WINGS, the practical implementation of rights-based care means that we treat every client in a non-judgmental, non-coercive manner that provides ample education for each individual to make well-informed decisions. You can see this in various aspects of our service provision process.
We provide a Youth-Friendly Space within our clinic to attend anyone age 19 or under. This space is staffed by our Youth Program team who are trained and skilled at communicating with youth who then provide a 'warm hand-off' to our clinical staff if the youth decides to get a contraceptive method. We offer all services for free to anyone under age 19.
Our clinical team uses techniques to protect privacy and invite clients to ask honest questions before, during, and after any clinical intervention. Each client receives comprehensive information about available contraceptive methods before they choose which one is right for them and can opt out at any moment if they change their minds. This is important in a context where we know that not everyone has been informed that vasectomies and tubal ligations are permanent procedures, for example.
As we continue to learn and improve our service delivery, we hope you will partner with us. Your support allows us work towards a future where all Guatemalans thrive and are able to fully exercise their sexual and reproductive rights.