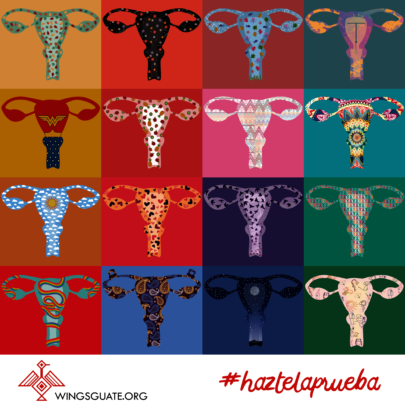 We are very pleased to present the initial results of our most recent campaign aimed at raising awareness for Guatemalan women to have cervical cancer screening. After seeing incredible engagement with our Guatemalans followers on Facebook, we launched the campaign #haztelaprueba (#getscreened) in March to encourage women to get screened regularly. We finished the campaign on May 10 and can proudly say it was resounding success: our Facebook posts reached more than 26,000 Guatemalans!
After every announcement we posted, we received several private messages asking questions regarding the procedure: "How does it work?", "Do I get the results the same day?", "Can I get cryotherapy treatment?", or even "Is it really necessary that I get screened?" People wrote from different areas (Sacatepéquez, Quiché, Baja Verapaz and Guatemala City) and we successfully referred them to upcoming clinics or other resources in their communities.
We believe part of the success of this awareness campaign was talking about cervical cancer prevention while simultaneously addressing other subjects. The focus of the campaign was to show a vast diversity of uteruses (as shown in the picture) to let women know that they should get screened regardless of their medical record, sexual practices or personal situation. We tackled topics such as LGBT, teenage pregnancy, and indigenous culture, amongst others.
Approximately 1,500 Guatemalan women are diagnosed with cervical cancer every year, and some groups are significantly more vulnerable to it. In fact, indigenous and rural territories are more likely to have restricted access to health services than urban areas, and homosexual and bisexual women get less routine sexual health care, even though they can also be exposed to HPV and cervical cancer.
The overwhelming response to this campaign shows the need to provide trustworthy information about cervical cancer prevention, as well as the need to pay particular attention to groups that may be more at risk of not being diagnosed on time.
In 2018 alone, we aim to provide 3,700 cervical cancer screenings, and thanks to your support, we know we are on the right path!