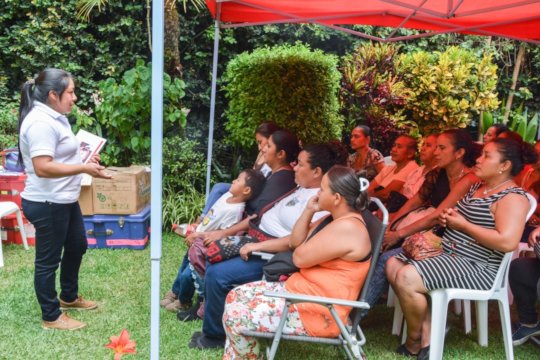 WINGS has provided 57,132 cervical cancer screenings since 2001. While we are beginning to see that more women know such a screening exists and are interested in getting screened, we are always challenged with two aspects of Guatemalan culture: religious conservatism and ubiquitous machismo. Our staff recently was reminded of these hurdles in two specific situations.
For the last year, WINGS has partnered with a large and well-established local banana farm to offer twice monthly cervical cancer screening to their numerous female employees and female family members. The farm owner requested that we only provide cervical cancer screenings and not offer any other reproductive health services. Each time we arrived for these clinic days, we were welcomed and we had hoped that as we gained this farm owner's trust, we might eventually be allowed to offer additional reproductive health services to the employees and their families. This hope was halted rather abruptly this fall when conservative family members insisted that the owner cut ties with WINGS.
Thanks to encouragement from other non-profit groups and community members, we are currently working cautiously to re-establish the relationship.
In November, we met Luisa Maria, a 27 year-old mother of three who came to a WINGS mobile clinic to get an IUD (intrauterine device). As with every long-acting contraceptive method we provide, we offered to screen Luisa Maria for cervical cancer for free. While she did not have any symptoms that might have concerned her, she agreed, noting that it had been 4 years since her last screening. She was surprised to learn that her cervix showed abnormal cells that were too advanced to treat with cryotherapy treatment and we would have to refer her for colposcopy. As we explained all of this to her and answered her questions, her husband, who was waiting outside the clinic with their youngest child, became increasingly agitated and impatient. When he demanded that his wife leave the clinic because she was taking too long, our staff stepped in to calm him.
Luisa Maria's case is one that we see often. Many of our patients come to us not only without the support of their partner, but often with resistance from their partner. This resistance is usually expressed in some form of machismo and can be an unsurmountable barrier. WINGS works every day to educate and empower women to have a voice in their own health and decision making.
We are so grateful to you for supporting WINGS and the work we do to confront these and other challenges. ¡Gracias!