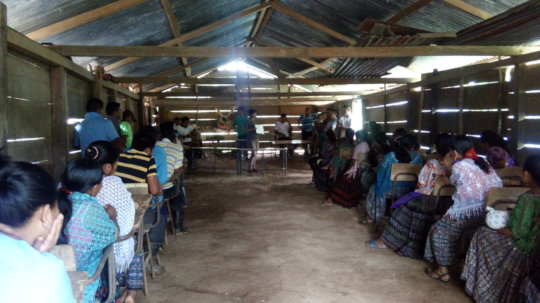 At the end of September, WINGS organized a cervical cancer screening clinic in Chahal (department of Alta Verapaz), a Mayan Q'eqchi' community where 86.71% of the population does not have access to electricity.*
The health post was very grateful for WINGS' offer to provide free screenings in Chahal, as several barriers exist in the community for women to access reproductive health services. In fact, only the 9.68% of the economically active population are women,* which means most of them do not have the economic power to access health services. Moreover, the community is difficult to reach, as there is only a several-mile dirt road from the nearest village. Even though WINGS' mobile units are prepared to handle these roads, local transportation is almost nonexistent and it is very unlikely for a woman to be able to travel on her own.
Thanks to WINGS' visit, 7 women received a cervical cancer screening. This number may sound small, but it becomes bigger after learning that most of the women heard about cervical cancer for the first time during their screening with us. We are very proud of our medical team's ability to provide comprehensive information about reproductive health in a community where illiteracy affects the 42% of the population.*
WINGS provides rights-based, patient-centered services, which means we treat every patient in a non-judgmental, non-coercive manner that provides ample education for each individual to make well-informed decisions. Each person receives comprehensive information about available contraceptive methods before they choose which one is right for them and can opt out at any moment if they change their minds. This is important in a context where not everyone has been informed of their rights in past medical treatments or they have not receive any treatments at all.
As part of our commitment to rights-based care, WINGS trains all our employees on not only technical aspects of care provision but on the communication skills needed to provide the highest level of care while respecting the patients' rights. We hold quarterly trainings with our field staff to ensure that all levels of intervention are based wholly on respecting a patient's rights to choose freely and responsibly how to experience their reproductive health.
* Source: Guatemalan Secretariat for Planning and Programming of the Presidency (SEGEPLAN), 2009.