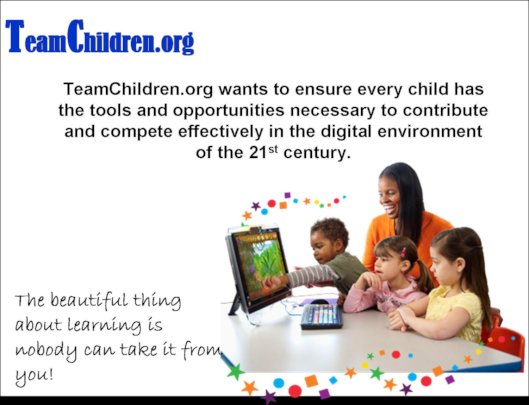 Dear Friend:
Please consider making a contribuition to TeamChildren and help us expand the difference we are making in the academic, economic, and social futers of children here in our region and around the world
Our new book "Hands on Parenting a practical guide to massage for happier, healthier, smarter kids" is now on amazon www.handsonparenting.org
Our effectivness and accomplishments with minimal funding and a staff orf mostly volunteers are amazing.
We helped transfrom one of the most impoverished and drug ridden neighborhoods in Philadelphia.
We created a 21st century early learning program in a large Hispanic preschool program
We have distributed over 16,000 low cost refurbished computers reaching over 75,000 kids..
While having access to a computer is common for most children and just about every business, there are far too many children in our region that do not have adequate access to a simple computer at home or in school. In Philadelphia schools there are far too many classrooms without working computers.
With over $500 worth of learning software installed on each computer we introduce children and their parents to a new world of learning. From software that can teach toddlers reading, math and music to programs that will help college students excel. Children can learn anything they want right at home with the click of a mouse.
Teamchildren.org has with minimal funding and mostly volunteer staff, distributed over 15,000 low cost high quality refurbished computers to families, schools and organizations around the region. Now, more than 75,000 kids have improved their academic, economic and social futures.
The first family we gave a computer to lived in one of the most dangerous neighborgoods 9th and Indiana in Philadelphia. They had six children on of them Hector with his parents only having a grade school education, the likelihood of Hector graduating in the top 10% of his class and receiving a bachelors degree from Millersville University in 2016, was slim to none. But he beat the odds. His family received the first computer we distributed. www.TeamChildren.org made a difference.
How you can help.
Donate Equipment: Thanks to recent donations of equipment from Wawa, SEI, Johnson Matthey Acme, Lockheed Martin and many more companies and individual, we are able to distribute another 500 computers. We are always searching for more donations of equipment.
Volunteers are at the heart of our success: From senior citizens to teens in high school. We are always looking for new volunteers especially in the area of administration, marketing/pr, fundraising, data management, and computer repair. If you have a skill we can use your help
Contribute financially. What we have learned over the years is every financial contribution whether big or small helps a kid right here in our region.Please donate today
For more information, contact:
960 Rittenhouse Road
Audubon, PA 19403
Email: teamchildren@teamchildren.com
Phone: 610.666.1795
Website: www.teamchildren.org