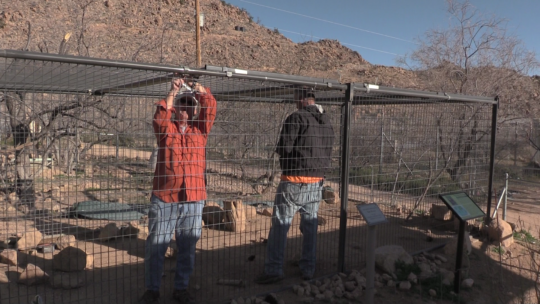 We're excited to announce that construction has started in Monkey Village. The first habitat constructed is for Nathan & Cinderee. Their previous habitat was 10 ft. wide x 20 ft. long x 7 ft. tall. Their new habitat is 20 ft. wide x 50 ft. long x 12 ft. high which includes 3 trees.
Their new habitat is complete as of today. We have spent approximately $5300.00 on this enclosure for framing and fencing alone. We still have to add inside enrichment structures and toys and Nathan & Cinderee will be released into their new habitat tonight.
Stay tuned! We will be sure to share photos and video of the primates being released and enjoying their new habitat later this week. Be sure to follow us on Facebook for more progress shots! www.facebook.com/keepersofthewildaz
Nathan (Pig-Tailed Macaque)
Nathan was sold by a Las Vegas pet store when he was one month old. He lived with his human family being raised like a child and dressed in children's clothes. KOTW received a call after the male owner passed away and Nathan started asserting a dominant attitude. They were intimated and no longer wanted him. It took Nathan awhile to figure out that he was a monkey and a few years later, he was introduced to a rescued Bonnet macaque named "Cinderee".

Cinderee (Bonnet Macaque)
Cinderee was one of the 10 primates confiscated by Sheriff Joe Arpaio in Maricopa County, AZ. The primates were at a private home along with a large number of other animals, which were all being badly neglected by the owners. It was one of the worst hoarding cases in Arizona history.