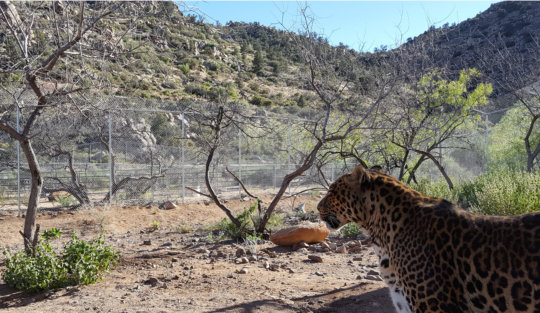 The move from the Spirit of the Hills, South Dakota sanctuary was difficult for Daisy and Bug. They adjusted well to life in their temporary quarantine area. Daisy and Bug had the opportunity to get to know our Keeper staff and had privacy while they patiently waited for their new habitat to be constructed.

The innovative leopard habitat contains Acacia trees of a smaller variety than found in Africa. The Arizona Cat Claw Acacias are a slow growing small tree that allows for the leopards to scratch and mark their territory just as they would in their native habitat. A large three level shade/resting platform stretches over a dry wash, affording the cats areas for lounging, observation and escape from the summer sun.

Park visitors are able to view the leopards from two ends of the habitat. During the day they currently prefer the seclusion of their den area. In the evening after park visitors have left they venture into their habitat to enjoy themselves.

Our veterinary staff had the opportunity to examine both Daisy and Bug. We are happy to discover that neither of them has been de-clawed. They are approximately 12 years of age. Bug was neutered as a cub and is a little bit overweight. We hope that will change as he has the opportunity to get more exercise in the larger habitat.

Leopards are naturally secretive and elusive in behavior. We understand this behavior and allow them time to adapt to the presence of park visitors. In the meantime, we are happy to be able to provide Daisy and Bug a forever home. We are only able to do this because of our wonderful supporters. Daisy and Bug both send their thanks to YOU!