Keepers of the Wild Nature Park was designed to accommodate the sometimes large volumes of rain. Heavy duty culverts were installed underneath our roadways to allow rainwater to flow from one area to another. However, this was the worst monsoon season we have ever experienced.

The monsoon season arrived three weeks later than normal. When the storms finally arrived the first one caused extensive road damage to the park. We were able to repair the roadways and re-opened the park to visitors the following day. The following week another large storm settled into the mountains above the park. A natural "dam" on a hillside above one section of the park had been saturated by the first storm and collapsed to divert rushing water onto roadways in areas outside of our normal storm-water channels. As a result, the park's roadways suffered major damage. Over 100 tons of material was required to rebuild the roads. Fortunately for the park, there are several quarries nearby that had material on hand for delivery.
Keepers of the Wild is also fortunate to have received the expert help and assistance donated by Kingman Landscape Maintenance. KLM owner Christ Burkett donated his Bobcat and operator (Luis) to assist our staff members in rebuilding and repairing the roadways. Our staff members went into action to remove vegetation debris that built up as a result of the flood waters. Board of Directors member Jim Woods contributed his knowledge as a geologist in evaluating the damage and future storm-water diversion plans.
All repairs were completed and the sanctuary was able to re-open. Thank you so much for your donation toward the "Flood Damage Relief Fund". We could not have done it without you!

Links:
New Home for Decara!
Decara arrived at Keepers of the Wild in October along with 7 other big cats. His former home at Spirit of the Hills, South Dakota had their license revoked by the USDA.

Since his arrival we have learned that he had a domestic dog as a companion when he was young. As he grew the dog was moved to another location and Decara lived a solitary life. We do not know the memories that Decara brought with him of his former home. He developed a new relationship with the lions Annika and Kemalu during their quarantine period. They are all neighbors in the newly constructed habitats and enjoy daily "roar-off" contests where their voices may be heard throughout the park.
It was exhilarating for staff members to release Decara into his new habitat early February. He explored and moved throughout the habitat, marked his territory boundaries and lay down on his observation platform to take an enjoyable nap in the sunshine. See the video of his release.

Decara has bonded with Jonathan Kraft (our Founder and Executive Director). When Jonathan goes out to visit, Decara comes over to the fence and vocalizes in friendly conversation with him. Decara is a magnificent individual who delights sanctuary visitors.
Thank you for helping make this all possible! This project is complete and will now be deactivated. Please see our new project link:
https://www.globalgiving.org/projects/flood-damage-relief-fund/

Save
Save
Save
Save
Save
Save
Save
Links: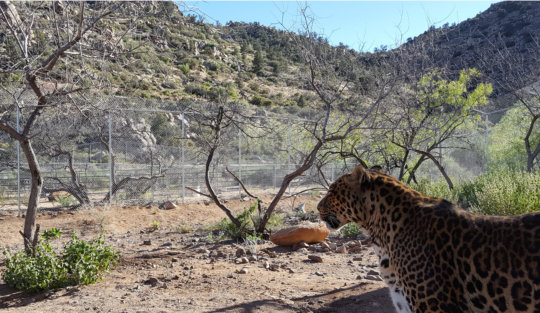 The move from the Spirit of the Hills, South Dakota sanctuary was difficult for Daisy and Bug. They adjusted well to life in their temporary quarantine area. Daisy and Bug had the opportunity to get to know our Keeper staff and had privacy while they patiently waited for their new habitat to be constructed.

The innovative leopard habitat contains Acacia trees of a smaller variety than found in Africa. The Arizona Cat Claw Acacias are a slow growing small tree that allows for the leopards to scratch and mark their territory just as they would in their native habitat. A large three level shade/resting platform stretches over a dry wash, affording the cats areas for lounging, observation and escape from the summer sun.

Park visitors are able to view the leopards from two ends of the habitat. During the day they currently prefer the seclusion of their den area. In the evening after park visitors have left they venture into their habitat to enjoy themselves.

Our veterinary staff had the opportunity to examine both Daisy and Bug. We are happy to discover that neither of them has been de-clawed. They are approximately 12 years of age. Bug was neutered as a cub and is a little bit overweight. We hope that will change as he has the opportunity to get more exercise in the larger habitat.

Leopards are naturally secretive and elusive in behavior. We understand this behavior and allow them time to adapt to the presence of park visitors. In the meantime, we are happy to be able to provide Daisy and Bug a forever home. We are only able to do this because of our wonderful supporters. Daisy and Bug both send their thanks to YOU!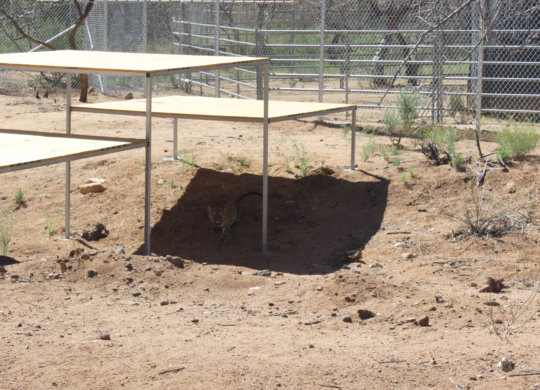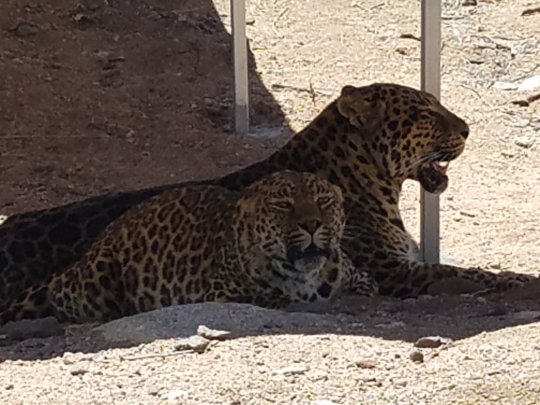 WARNING: Javascript is currently disabled or is not available in your browser. GlobalGiving makes extensive use of Javascript and will not function properly with Javascript disabled.
Please enable Javascript
and refresh this page.