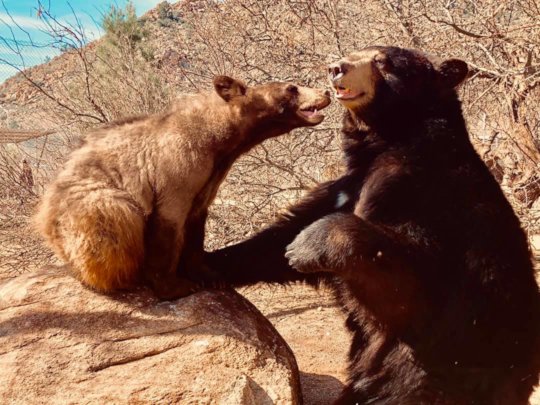 "Uncle" Bucky is very loving and patient with little Kenai.
Kenai, an orphan black bear cub, was brought to Keepers of the Wild by Arizona Game and Fish last year. We were his last hope, he would have been euthanized if we were unable to take him.
As a young cub, Kenai required specialized care. After spending several months in a temporary enclosure, Kenai had matured enough to be introduced to his new black bear family. The introduction process was slow but Kenai was well received by the other bears. Kenai interacts with all the bears but seems to especially enjoy his play time with Bucky.
His new black bear family had spent most of their lives performing and posing for photos- confined in chains and small spaces to provide "entertainment" for people.
It sure is rewarding to witness these rescued animals experience a happy life after enduring so much suffering. Your support is what makes that possible.
As you know, food and care expenses of all rescued animals are an on-going expense and this fundraisier will remain active on GlobalGiving. We are so thankful for your continued support to provide the best for these deserving animals.
PLEASE JOIN US FOR PAWS + CLAWS!
Paws + Claws is a one-day matching campaign designed to celebrate animal welfare projects by matching donations up to $500 at 30% with $15,000 in matching funds and $5,000 in bonus prizes.
Use the following link to support our project on May 22, from 9:00 a.m. - 11:59 a.m. ET.
https://www.globalgiving.org/projects/help-feed-rescued-wild-animals-in-arizona
*Donations must be given on May 22nd to be eligible for matching!