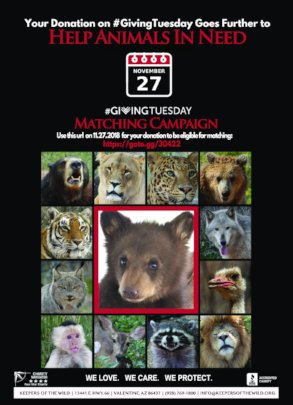 We have rescued a total of sixteen animals so far this year- including six bears and three big cats! The new bears alone will raise our food bill by over $70,000 this year. That's not including any other animals or care expenses.
Please remember the animals this #GivingTuesday on November 27, 2018. We will be participating in the #GivingTuesday Matching Campaign. Your donation will go further to help more animals.
THE BIG CAT TRIO
Keepers of the Wild rescued three big cats from a remote Nevada location last month. The African Lion (Mazi), Bengal Tiger (Bowie) and African Leopard (Cleo) had been kept as pets in a rural home backyard for the past ten years. Their owners had faced much opposition from neighbors and the county animal control agency regarding the keeping of these animals.
Almost two years ago, these three big cats (along with other animals) were confiscated by the animal control due to concerns over substandard care. They had been keeping the animals as pets with authorization made possible through a conditional use permit. Eventually the animals were returned to their owners with continued oversight and inspections. The neighbors persisted in making complaints and circulated a petition to have the conditional use permit revoked. The owners eventually decided to re-home the animals and contacted Keepers of the Wild.
The expert team from Keepers arrived on the property to remove the animals. Mazi and Bowie willingly entered their respective transport cages and were moved to the air-conditioned rescue vehicles. Leopards tend to be more challenging to work with and Cleo took quite some time before she was willing to move into the transport.
On arrival at Keepers, the animals were immediately released into spacious den enclosures. Bowie and Cleo were evaluated the next morning and after having a restful night were determined to be ready for unrestricted access to their large natural habitats. Their two separate habitats had recently been renovated to accommodate the individual species. Mazi the lion was placed in one of our temporary quarantine holding pens while his habitat renovations were completed. Mazi enjoys joining his voice by roaring with our other lions Kemalu and Decara!
Exotic animal ownership continues to be a controversial issue. Each state has the right to enact laws regarding the possession of the various species of wild and exotic pets. Some counties in Nevada such as Nye, have laws which are more lenient than many other states. There are many individuals that keep exotic big cats as pets.
Jonathan Kraft, Founder and Executive Director of Keepers of the Wild said: "We are pleased to accept the responsibility of caring for these three big cats. Although their former owners loved them, they were unable to provide the type of care given to the animals that live at Keepers of the Wild." All three of the animals now have a considerable amount of space in comparison to what they had been used to. Animal Care Staff members will be providing the three big cats a variety of environmental enrichment opportunities.
The "Big Cat Trio" are all enjoying their habitats!
All three of the Big Cat Trio are getting used to their new life at Keepers of the Wild. They are enjoying the large natural habitats and spending their days relaxing in a variety of locations
Cleo has quickly responded to the kindness shown her by both her male and female Keepers. We are so pleased with having the opportunity to take care of these very special individuals.
Your support made these rescues possible! THANK YOU!