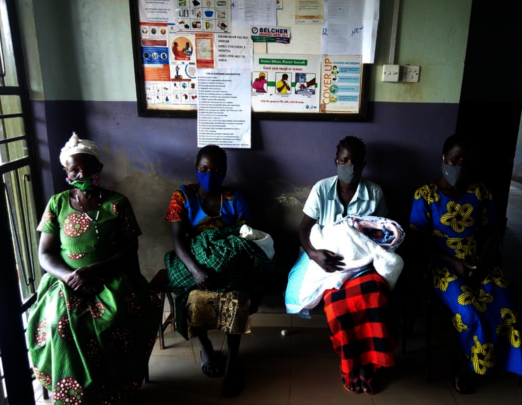 Like the rest of the world, KCIU services and project activities have been distracted by the directives in responses against the COVID 19 pandemic. As frontline "essential" health service providers we continue to offer emergency obstetric and newborn care at our facilities, where we have witnessed immediate disempowerment in the maternal newborn care due to the COVID 19 pandemic.
So many mothers have lost their lives due to the restrictions on movement and the frustration that comes with seeking permission to go see a health provider or deliver babies. Many mothers have now resorted to doing home deliveries, delivering with traditional birth attendants or small drug shops casting them into a great risk of death and paying absurd amounts of money for very poor quality services.
Achayo and Anena had their babies on the same day. Achayo explains to the clinical officer, Morris how excited she is to have this baby. When I was coming to the health centre, I was not sure how the delivery would end like. I am aware about COVID 19 and did not know how safe me and my baby would be, but I am happy with the care I was given. My baby is doing well"
All mothers and babies' lives matter even in the toughest of the situations, as medical workers we ought to save lives and support bring life to earth.
We meaningfully engage the community through the Village Health Teams (CHWs) while conducting refresher training through videos on maternal newborn health and support them to apply these within their communities.
Mothers in the community receive timely health education through VHTs and because of this, they have managed to attend all the required ANC visits and also make postnatal review visits. We continue to thank partners for their support.
Thank you for all your support.
Links: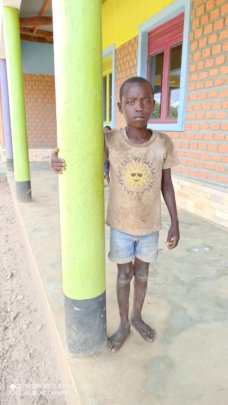 When the COVID-19 pandemic was announced in Uganda in March 2020, closure of schools followed. The education of 15 million children was disrupted. Children spend majority of their time at home playing, helping their parents with chores, engaged in agriculture but also spare some hours a day to study. The education of children has been impacted, in urban areas, some children are relying on lessons available online, televisions and radios, while those in faraway/rural areas, fall back on their notebooks and old learning materials.
In very remote districts such as Barogal, Omoro districts, children share their stories and what they miss most after their biggest support network -friends, who they are no longer in touch with. With lots of questions about tomorrow, these children are taking one day at a time.
7-Year-old Okot visits his class. He longs to get back to school.
If not for the COVID pandemic, he and his friends would be in the classroom learning. Their story is not different from many other children who have been forced out of school due to the pandemic. They have been home since their school was closed in March 2020 as a preventive measure to fight COVID-19 disease. "I miss school a lot. I miss my friends. We used to study together and play together. These days I spend the day digging and helping my mother to sell bananas and other food items by the road side."
With a lot of hope, Okot hold onto their dreams of becoming a farmer after his education. Today he remains hopeful that the school will be open very soon. To support continued learning of children, support Okot and his friends to receive printed and learning revision materials to benefit those in remote districts. The materials are delivered to homesteads by the teachers and they will soon receive hers too.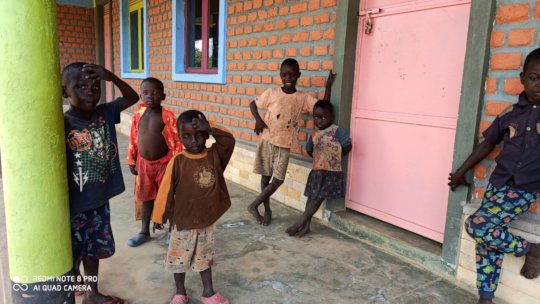 Links: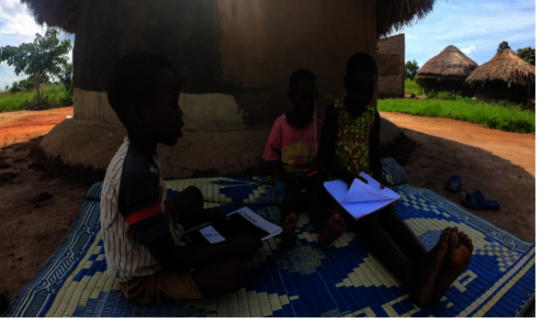 Dear friends,
With all schools shut and the country at large under lockdown, teachers through the Ministry of Education have tried to stay on the job despite the national lockdown. They are trying to teach remotely on television, phones and on radio. This is one of the most trying moments for the rural children in Northern Uganda a region devoid of technology.
Ouma is the eldest of the three children who has to gather his other siblings at 10:00 am to listen to Teacher Peter based in Kampala just after carrying out their house chores. When I wake up, I brush my teeth, bathe and then do my assigned house chores that include fetching water at the borehole in Barogal, before getting ready for our study sessions on our small "nakiva radio" Ouma says
Ouma's mother Atiku who has two other school-going children says her biggest challenge is keeping her children engaged and at the same level as those in other areas that can attain both visual and audio lessons because her children can only attend audio lessons. "I keep telling them to read their books but it's not easy, they keep dodging and end up switching the radio to other channels, they always run to the town centers to try to attend the lessons on TV because I cannot afford one though this contradicts with the government directive of social distancing," said Atiku
Children in rural areas and informal settlements where community-owned televisions are the norm, cannot use television lessons as this is in contravention of the government orders on physical and social distancing to stop the spread of COVID -19 "There has been a great gap drawn between our children in the rural villages and those in urban centers where households have television sets and electricity "said Omona one of the market vendors in Gulu market. As the lockdown continues and with the academic calendar drawing to a close, concern continues to grow as to whether learners like Ouma through the audio lessons will grow and be competitive in comparison with the urban students in Kampala and whether the lack of information for parents and learners on how at-home learning is to be assessed.
Please support these children to continue with their education through the radio. They need solar radios to help them learn.
Please stay safe and keep the social distance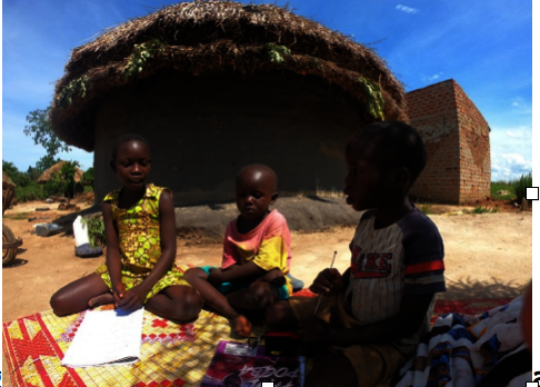 Links:
WARNING: Javascript is currently disabled or is not available in your browser. GlobalGiving makes extensive use of Javascript and will not function properly with Javascript disabled.
Please enable Javascript
and refresh this page.