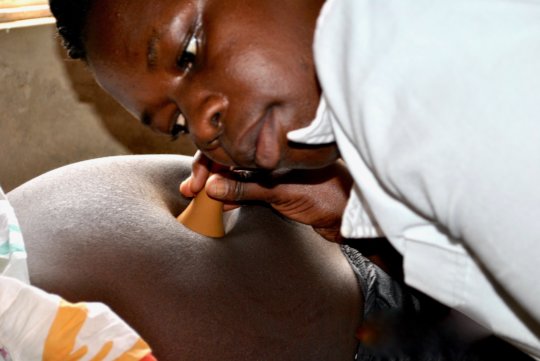 "Just lie still and relax. Breathe slowly," midwife Diana guides Anena, age 24. Anena is attending her third antenatal care at the maternity centre for her third pregnancy.
Diana pressed a fetal stethoscope onto Anena's belly. "The heart is beating well," she told Anena. Diana encourages all expectant mothers to attend at least four antenatal services. She works very closely with the community village health volunteers to identify expectant mothers who are then referred to the maternity centre.
"It is important that we encourage the mothers to come to the clinic. There is a misconception about the care that we provide at the health centre," she explained. "The previous generation gave birth at home, most often with the help of a traditional midwife, who had no professional training. So sometimes they simply do not come to us," Diana lamented. This makes it difficult to achieve one of our primary goals; reducing maternal mortality among the rural women.
According to the most recent reports, the maternal mortality rate in Uganda has decreased from 438/100,000 women in 2011 to 336/100,000 women in 2016 during live births (Uganda Demographics & Health Survey 2016). Midwives have contributed tremendously to this decrease. Nearly three quarters of women (74%) now deliver with the assistance of a skilled birth attendant (UDHS 2016) compared to 37% in 2006 and 58% in 2011.
Midwives trained to meet rural needs
According to a United Nations Fund for Population Activities (UNFPA) policy brief, Uganda has about 1,043 midwives. Due to shortages of trained midwives, it is estimated that one midwife handles between 350 and 500 deliveries a year, yet the World Health Organization (WHO) recommends that a one midwife should handle no more than 175 deliveries a year. With an estimated 1,800,000 births per year (Country meters 2017) the country needs 9,243 more midwives to meet the required minimum staffing.
Devoted midwives, poor infrastructure
Still, these midwives face a range of challenges while providing services– not only frequent power outages, lack of housing for midwifes on night duty, but also stock outs of supplies such as gloves.
In Gulu, the facility experiences frequent power outages and, because there is no standby generator, the midwives have to use solar power that sometimes does not work well during the rainy season, to light the maternity ward. "The current solar power is not enough to provide adequate light," Diana explains.
According to a study by WHO and the World Bank, lack of electricity remains a neglected barrier to effective provision of health services in many developing countries including Uganda. A total 58% of health facilities in Uganda have no access to electricity, the study notes.
Grinding poverty also limits rural women's access to care.
"They need to tend to their crops and take care of children," Diana said, explaining that many women do not have the time or resources to seek health care. Anena had to squeeze her check-up into a busy day of farm work. Afterward, she returned to the gardens, and also cared for her two young children. "I have to meet my family needs by selling food at the market as well," she said.
A role model
For her part, Diana says that, although she is sometimes overwhelmed with the workload, she is happy to see an increase in women seeking her services. She hopes to set an example for the next generation. She too, grew up in the area, she explained. When she completed school in midwifery, she wanted to serve her community.
"I have some girls who want to talk to me about my education and some of the parents see that maybe it's good for their daughters to stay in school. People see what I have done and so they have begun to think, maybe I can do that too," she said.
Links: