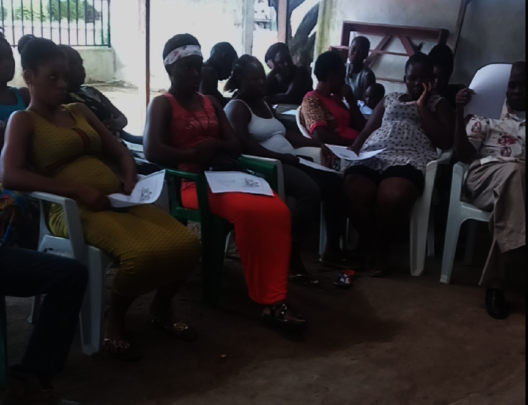 Imani House Liberia's Family Health Care and Education programs are still thriving and providing neccesary services to those who need it most. Your support has been invaluable!
Our Clinic has served over 8,000 mothers and children since the begining of 2018 and has provided pre and post natal care, immunizations, first aid, treatment of malaria and other diseases, STD prevention and much much more!
A major part of what we do at the Clinic and in the surrounding communities is education based, as we truly feel an ounce of prevention is better than cure and many of the issues Liberian communities face are due to lack of information. As a result we have utilized your support , GlobalGiving's support and a partnership with Proliteracy to create the Liberian Women's Health Manual.
This project which is in it's 2nd year has expanded the training of our Community Outreach Workers as well as Youth Peer Educators and allowed them to learn about the health issues and preventative measures relevent to their communities and share the information with others. As self-sustainability is a major part of our mission of creating viable communities "where residents are decsion makers who take responsibility for the improvement of their lives and surroundings" , you have truly aided us in accomplishing that. If you have not yet, please do so.
Our Education Program, which recently began its "Fall" session has expanded to add additional locations and students to benefit Liberian communities with the majority of students being Market Women and housewives.
In Liberia, education has not been deemed as important for women as men and many of our students have not learned to read or write as they have had to engage in commerce to support their families since very young. Others, who have been tasked with supporting their families by caring for their children and keeping their homes in order have also not received many opportunities to receive an education, as most were married very young as well.
With the election of Africa's first female president, Ellen Johnson Sirleaf (Liberia's previous President) many Liberian women have become more interested in receiving an education and have sought out the means to do so, but opportunities are few and far between, almost to the point of nonexistence. For adults who have passed the "schooling age" programs such as Imani House's are very important and your support is very important as well.
Our program is essential to allowing this population to receive the education they yearn for. For most Liberian adults interested in continuing or even starting their education, the only option has been to hire a tutor, which most do not have funds for, or joining an elementary school class with children, which is quite demeaning and stifles whatever zeal to continue education they may have; but among their peers in OUR program students feel more comfortable and thrive because of that!
Our retention rate has been close to 97% and usually the only time students leave is upon graduation or if they become seriously ill or move to communities too far to travel from.
Please join us in continuing this important work! Thank you.