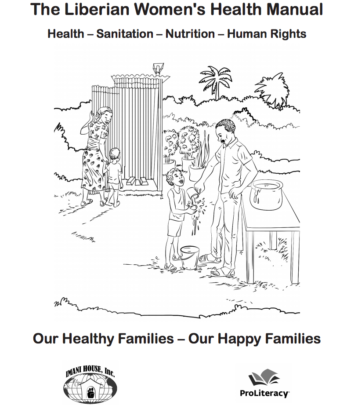 Dear
Imani House would like to thank you for your continued support and generosity! Your donations have allowed us to continue our important health and education programs.
Imani House Maternal and Child Healthcare Clinic: As the rainy season approaches Liberia, IHI is preparing to meet the challenges of serving twice as many patients, especially small children, who are most susceptible to pneumonia, high fevers and death. From May to October, the healthcare system is overwhelmed with cases of Respiratory Illness and Malaria, caused by an increase in standing water from the rains. Since 2015, our clinic has seen a dramatic increase in patients, which requires additional stores of medicines and an increase in staff.
The "Liberian Women's Health Manual" will be released in the coming weeks. It will be used to provide health education to 500 women and girls in remote areas with an emphasis on health, sanitation, nutrition and human rights. This program created by IHI, in collaboration with Proliteracy, is intended to improve literacy, awareness and to better prepare families to respond to their needs. Additionally, this program is raising funds in order to install at least five wells and ten latrines in the focus areas.
Adult Literacy: We will be hosting a graduation ceremony and closing program for our successful students in the coming months. Over 56% of Liberians are non-literate. Currently, 150 women are registered in our programs at three sites. Our goal is to expand our literacy programs in order to increase the literacy rates and improve opportunities for development so that students and their families are able to rebuild and further advance within the Liberian society.
*NEW* Vocational Center Completed: The newly completed IHI Vocational Center building is ready for use. As funds become available, we expect to bring classes in tailoring and marketable crafts. Also, renovations are being made to the IHI Palava Hut that is adjacent to the clinic. Palava Huts in the area are significant and are typically used for community meetings, congregations and church services.
Wish List 2017-2018: Additional funding will allow us to:
Hire additional clinical staff
Expand literacy programs
Acquire a four wheel drive vehicle in order to bring healthcare to remote areas during the rainy season
Install at least five wells and ten latrines in locations where we provide health and sanitation education
Your gift is fully tax deductible. No matter how small, donations are always appreciated, and 100% of your donations are allocated towards our programs and initiatives in Liberia. We would like to thank you again for your kindness, and we wish you well!
For any additional information or inquiries, please visit us at www.imanihouse.org or reach us at 718 638 2015. Thank you.
Sincerely,