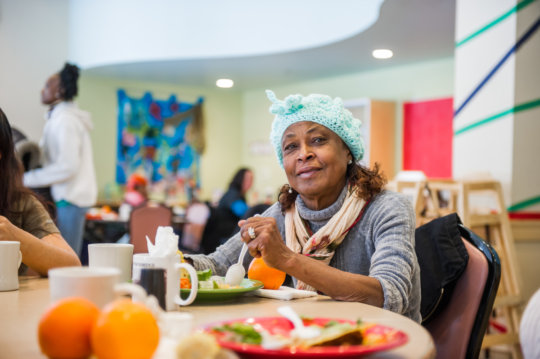 Report on Food Programs in FY17's Second Quarter
March 8, 2017
We at Rosie's Place are so grateful for your support of our critical Food Programs for poor and homeless women and their children, through GlobalGiving.
Serving thousands of nutritious breakfasts, lunches and dinners, and offering assistance with groceries—the Food Programs at Rosie's Place are longstanding and vital nutritional and financial supplements for our guests. Our Dining Room is truly the heart and hub of Rosie's Place—providing over 100,000 healthy and hearty meals to thousands of poor and homeless women and their children every year.
In the second quarter of our fiscal year 2017, from October 1, 2016 – December 31, 2016:
6,389 breakfasts were served
2,246 brunches were served
9,823 lunches were served
8,754 dinners were served
Special meals were served to the guests on Thanksgiving Day and Christmas/Chanukah.
This is a total of 27,212 meals served over a three-month period (almost 800 more than were served in this same period last year).
Rosie's Place Groceries welcomed 5,780 visits of which, 472 were new guests and 935 guests were 65 years old or older.
The Fresh Food Initiative
Through our Farm Initiative, Rosie's Place partners with local farms to help place fresh fruits and vegetables onto the plates served in the Dining Room and onto the shelves of our choice Food Pantry for our guests to take home to their families. This produce is all too often a luxury for our guests and the only fresh fruit or vegetables they will have. Our partners include: Hope Central Church, Brookwood Farm, First Root Farm, Dewey Square Farmers' Market, Volante Farm, Hutchins Farm, The Food Project, Belmont Day School, Land's Sake Farm, Boston Gleaners, Canann Farm and the Jamaica Plain Farmers' Market. Devoted volunteers and new partnerships continue to make this program thrive. We estimate that Rosie's Place receives more than $30,000 worth of donated fresh produce—annually from this innovative program.
Nutrition
Serving nutritious meals to our guests is a priority for Rosie's Place. We are proud of our efforts to serve our guests tasty and healthy meals. To that end, we have established the following goals, metrics and strategies. Below is our progress-to-date in FY2017:
Goal: Improve the nutritional meals served based on the 2015 - 2020 Dietary Guidelines for a 2,000 calorie daily diet. A healthy eating pattern limits saturated fats and trans fats, added sugars and sodium.
Metric: 65% of the meals will contain less than 10% of calories per day from added sugars.
Metric: 65% of the meals will contain less than 10% of calories per day from saturated fats.
Metric: 65% of the meals will contain less than 2,300 mg of sodium daily.
Metric: 100% of the meals will contain one serving of fruit.
Metric: 75% of the lunches and dinners will contain three servings of vegetables.
Metric: 75% of the meals will contain 6oz grains (3 oz whole and 3 oz refined) per day.
Metric: 75% of the meals will contain 5 ½ oz of protein per day.
Progress: In our first quarter, all of these goals were met or exceeded except for the sugar and protein goals. Limiting sugar in meals proved to be difficult with the inclusion of fruit in all of our meals as well as the challenge of discerning unlisted "added sugars" in recipes rather than just the sugar listed in recipes and on nutritional panels. The protein goal was challenging because we were measuring in grams instead of ounces so recipes had to be converted. In our second quarter these goals were met or exceeded.
Goal: Post menus and nutritional values of each meal on a wipe board in the Dining Room.
Metric: 100% of meals posted on the wipe board.
Progress: Goal met.
Goal: Collaborate with Self-Advocacy to provide cooking demonstrations in the morning while guests wait for their visit to the Food Pantry.
Metric: 12 times per year, cooking demonstrations will happen in the Dining Room.
Progress: Utilizing our new cooking demonstration cart, two cooking demonstrations have been held this year already and were very well-received by our guests. Two volunteers who are studying nutrition created recipes with seasonal produce and other selections of foods that are on the shelves in our Food Pantry. The recipes were made available in six different languages. During the demonstrations, our presenters explained each step of the recipe and the differences between good and better foods—such as white rice versus brown rice and canned versus fresh vegetables. After each recipe was prepared, the guests were offered a sample.
In an effort to make meals in our Dining Room even more enjoyable for our guests and their children, Rosie's Place's Arts Initiative brings performances from a cappella and choral groups, jazz ensembles, a pianist and more to the Dining Room.
Catering Program
From July 1, 2016 through December 31, 2016, a remarkable 253 meals were catered at $350 each, raising a total of $88,550 to offset Dining Room expenses. This is 68% of the meals we served.
Like our Farm Initiative, another cost-saving and community building effort underway at Rosie's Place is our Catering Program. Our Volunteer Services department recruits and oversees groups of volunteers who cater a lunch or dinner in our Dining Room. Groups can cater a meal by making a donation to underwrite the cost of the meal and then prepare the meal with our help in our kitchen—and serve it restaurant-style to our guests. This is innovative program saves Rosie's Place a substantial amount of money and staff time. Moreover, it allows people to come in and be a part of the Rosie's Place community for a lunch or dinner shift and often, they return for years to come. We continually receive wonderful feedback about this volunteer opportunity which builds teamwork and community while serving others.
Rosie's Place is deeply grateful to our GlobalGiving supporters for your very loyal and generous support. Your generosity not only sustains us—it inspires us.