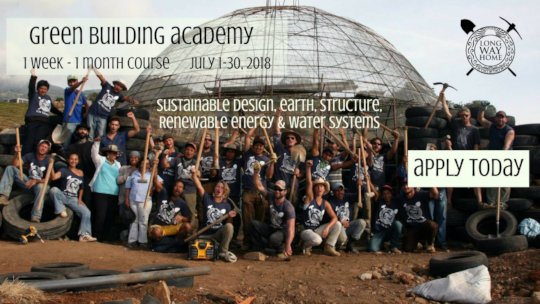 Starting on July 1st during the LWH Green Building Academy participants will integrate a literal ton of inorganic trash into the construction of an off-the-grid earthquake resistant sustainable home for a local family with limited resources. When not on-site pounding tires or raising the roof, in order to enhance your development as a green building eco-warrior, our instructors will walk you through every step of the home building process. Don't miss the opportunity. Sign up now. See you in July.
Thank you for your interest in our work. We appreciate your support and always enjoy the opportunity to share our stories with you, the people that make them possible!
Links:
Hello dear friend of Long Way Home (LWH). Here are the latest news from our sustainable school in Guatemala. In Comalapa the rainy season just hit and we have started to collect rainwater. The water flows into our 42.500 gallon cistern from all the school buildings' roofs and serves our daily needs.
At the sustainable school Centro Educativo Técnico Chixot (CETC), middle and high school students went to the next step of their project-based curriculum. After the students have presented their individual community projects in Xiquin Sanaii in February, they now have rolled out a socio economic and environmental survey in the community. The students analysed the whole village, a total of 181 families and their housing situation. Based on the information collected, each grade now will chose their perfect family for their green building projects, considering infrastructure, domestic appliances, health and general living conditions. The students and LWH staff are very excited to complete the community projects of a smoke efficient stove, a water tank, latrines and a tire retaining wall by the end of the year.
The school year at CETC is now half way through and our students ended their second semester with exams. We wish all our students luck with these exams and look forward to what they have planned for the rest of the year. To improve financial stability of CETC and to improve teaching our students, LWH will soon be offering a school sponsorship program. We invite you cordially to partner with our school and sponsor CETC teachers and primary, middle and high school grades with necessary materials. Just $40/month will cover all the resources one student needs, including supporting the teachers.
Last but not least the LWH crew is thrilled to start the first Green Building Academy 1st July 2018. The Academy offers hands-on learning experiences that contribute to the development of skilled and socially responsible green builders. The organisation and planning to making this event happen is in the final phase.Our construction crew, the materials to build the house and the local family to benefit from a new green building housing are ready. Last chance to apply for the July session is this upcoming Sunday 10th of June. Don't miss your chance and share the Academy Event Flyer with your friends!
Thank you for your interest in our work. We appreciate your support and always enjoy the opportunity to share our stories with you, the people that make them possible!
In Gratitude,
The Long Way Home Team
Links:
Attachments: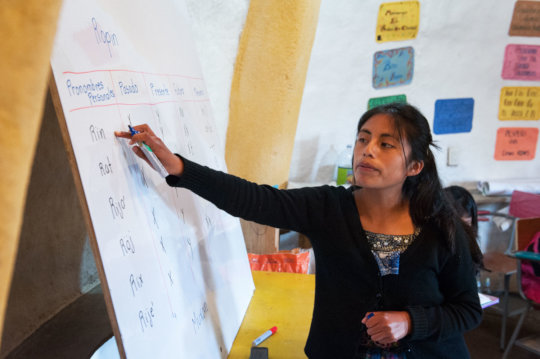 First year of high school has begun
This year we opened the first high school grade at Técnico Chixot! Our school, Centro Educativo Técnico Chixot has been developing a curriculum based on democracy and self-sufficiency. The democratic education model presents a dynamic, interdisciplinary curriculum that guides student-driven, community-based projects that address genuine community needs. Our middle and high school students will now begin planning and implementing a variety of community infrastructure projects that they will carry out in the nearby village of Xiquin Sanaii, Comalapa.
Just last week we watched proudly as our

middle and high school students presented their projects to the entire community of Xiquin Sanaii.

This will be

the beginning of beautiful new chapter for Long Way Home and Técnico Chixot!

The village is about 10km outside the center of Comalapa in the mountains and the residents face infrastructure issues that are common in rural areas of Guatemala.

Each grade presented their project as a solution after describing the problem that it addresses. For example, respiratory illnesses and deforestation are large problems that affect many communities in Guatemala. 7th graders at Tecnico Chixot will build smoke-efficient stove for a family that will help to solve these issues one family at a time.
Many indigenous people in rural areas face problems like no access to water, bad cooking conditions and/or worse sanitation situation. All of these problems reduce health and overall well-being of indigenous families, especially women and children. Our students of
Técnico Chixot
will begin to survey all the families in the village to chose who is most at need for each project that the students will then implement for the final project of the year. The green building projects include the construction of a smoke efficient stove, a water tank, latrine and a retaining wall which our students then will carry out in the near future under the technical guidance of our experts and teachers.
February Workshops at Long Way Home
Sharing knowledge empowers people to become self-sufficient. Feburary was the month of workshops at Long Way Home and we partnered with different organizations and people to learn from each other. We built successfully a cob oven for a local family and their pizza business. Cob ovens are a sustainable, affordable, and easy way to build an oven for many uses. The following weekend we held a medicinal plants workshop in collaboration with a local women of Comalapa. She showed us the secrets and uses of many local plants and their holistic uses in everyday lifes. The last week featured a permaculture workshop with Instituto MesoAmericano de Permacultura (IMAP). This introduction course to permaculture was all about ethics and principles of natural systems, permaculture design and Mayan cosmology. Our most successful workshop was the beginning of a beautiful partnership with IMAP and we had 20 participants from all over Guatemala including other local organizations. We look forward to hosting more workshops to enhance our education center and we invite you to join us next time!
Green Building Academy July 2018
We are excited to announce the inaugural year Green Building Academy with a four-week summer sessions that will give participants a solid background and hands-on experience in green, sustainable construction practices. Academy graduates will emerge as ethical and creative change agents, conscious and culturally competent global citizens, and informed leaders doing their part to create a more sustainable world. A local family with limited economic resources will be involved in construction and will receive the completed home at the end of the Academy. We hope to make the Academy accessible to people from Guatemala and Latin America with a scholarship program as well. Help us spread the word!
Inaugral session:
July 1 - July 30, 2018
Thank YOU!
A big thank you to all of our followers for supporting Long Way Home and the children of Técnico Chixot here in Comalapa, Guatemala. We also would like to inform you about some new GlobalGiving Projects which are coming up to give you more specific donation options for sponsoring the students of Técnico Chixot each month with tuition and school supplies, as well as the community projects mentioned, and scholarships for our Green Building Academy.
We wish you all the best, please s
tay tuned and thank you for supporting Long Way Home!
We coudn't do this without you. Thank YOU!!

In Gratitude,
The Long Way Home Team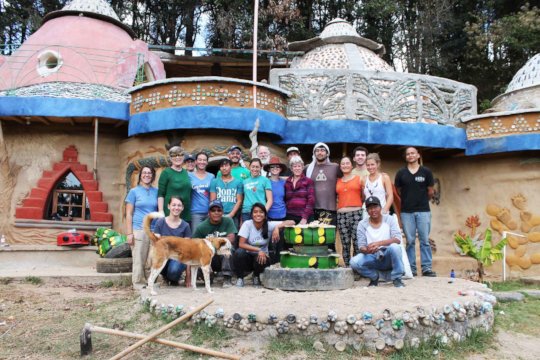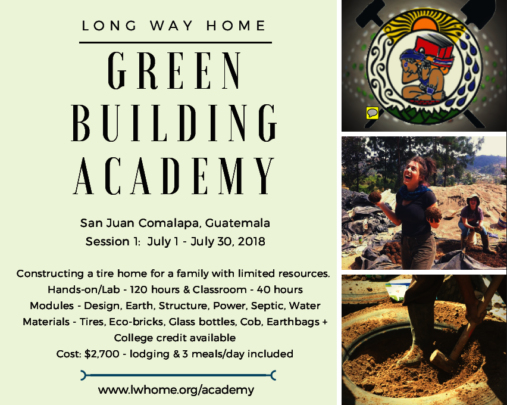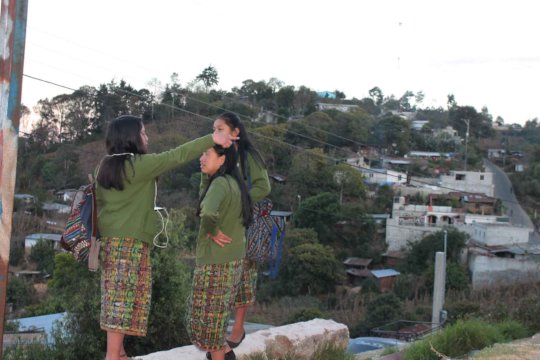 Links:
WARNING: Javascript is currently disabled or is not available in your browser. GlobalGiving makes extensive use of Javascript and will not function properly with Javascript disabled.
Please enable Javascript
and refresh this page.