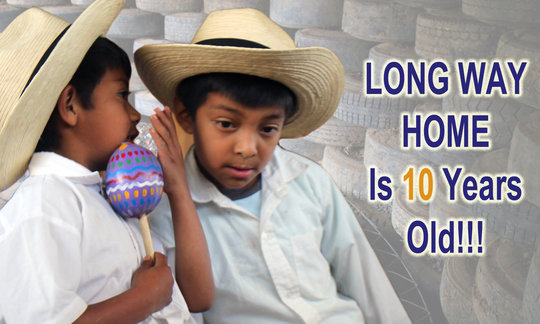 On Saturday the 13th of September, Long Way Home officially passed a huge milestone...our tenth anniversary! While we look forward to sharing a full retrospective after this fiscal year, we did want to take a moment to thank all of you who have helped us to reach this point. As we look back on the previous ten years, we bear witness to some amazing highs and lows. Starting with a few thousand dollars from the raffle of a car, we have grown in size, capacity for impact, and scope of our mission. From the promise to help develop five acres into a community park, we have taken on the responsibility for a 17-building, K-12 vocational school campus that will train local youth in green building techniques. This transformation has happened gradually and organically as the Long Way Home team has become integrated into the community of San Juan Comalapa, earning a place in the 2009 census as one of four "families" that have moved here from outside the Department of Chimaltenango.
In addition to the close relationships we've developed with our employess, vendors, and neighbors, how else do we measure our success?
Education
In our third year hosting students but our first since being offcially recognized as Técnico Chixot by the Guatemalan Ministry of Education, we have expanded to 64 students and added the sixth grade. We have recently received permission to begin providing middle school and look forward to welcoming seventh graders in the 2015 academic year. We have completed construction of ten of the planned buildings and recently received a matching grant to construct the remaing four elemntary school classrooms. Construction on these began this summer and should be completed by the end of our dry season.
Employment
It is LWH's model to engage the local residents in our green construction techniques so that when we turn to a new project, this community will have the training to continue improving their own local infrastructure and providing affordable stoves, latrines, retaining walls and rainwater harvesting systems. According to a survey of local businesses conducted by a LWH intern and a US Peace Corps volunteer, we are the sixth largest employer of local residents in Comalapa. In a town where only 14% reported formal and permanent employment in the 2009 census, this matters. In the last decade, LWH has paid over US $162,000 in local salaries.
Environmnetal Stewardship
On May 23, 2014, Long Way Home staff, volunteers and students gathered to participate in the pounding of our 10,000th tired re-used in construction. Since then we have continued our upper retaining wall and begun three more classrooms, all built using car and truck tires. As of June 31st this year, we had used 313 tons of garbage in this school project alone. The number gets closer to 400 tons when you add in the tire homes and retaining walls we've built, both locally in this municipality and as far away as Boston, Massachusetts, and Bogota, Colombia. The future self-sufficiency of this school, the model we hope to replicate, requires that we prime the market for the products our students and the tangential construction company, Los Técnicos, have to offer.
As the rainy season goes out with a roar, we continue to push toward our mutual goal of providing an environmentally friendly alternative to the degrading cycle of poverty. Thank you for sharing this vision with us and for providing funds for us to invest in this muddy, hillside Mayan town. The project here lays the groundwork for similar rural education projects in other areas of the world with limited traditional resources. Together, we can be the change.
And speaking of transformation, if you are in the Boston area on October 25th please consider attending our annual Rubbish to Runway ReFashion show! Now in its fourth year, this event features a food, fun and high trashion. Use the link below to learn more and reserve your seats.
Links: