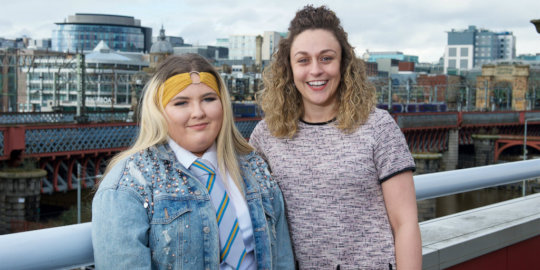 Giving a donation to The Trust could help future generations of young people get the chance to make something of themselves, no matter what their background. Take Jay for example;
Jay's father committed suicide when she was eight years old, seriously affecting her mental health and outlook on life.After becoming disruptive at school, Jay was referred to our Achieve programme where she was introduced to her youth worker Katie who helped her to transform her life.
"My dad committed suicide when I was younger. My best pal told me how he took his life when I was eight years old. It made me sick to the stomach and it affected my mental health.
My attendance at school was low and I got removed from most of my lessons. When I wasn't in school, I drank and partied. I would get angry and totally flip out and then cry, but I didn't know why. It affected every part of my life. My school referred me to The Prince's Trust Achieve course. My youth worker was called Katie. On my first day I didn't want to go because I didn't know anyone. Katie convinced me to come. She spoke to me beforehand and I really trusted her from the moment I met her.
I had my hard times and bumps in the road during the course. I was completely out of my comfort zone, but it was fun. Katie was so supportive and helped me through it all. She is an amazing youth worker with a massive heart! She felt more like a friend. She motivated and encouraged me to have a go at every obstacle and activity that was thrown my way. If it wasn't for Katie I don't think I would have done it.
The course helped me manage my feelings and talk about my past, and that felt really good. Now I feel confident about doing things independently, and it enabled me to help others, which I love.
Two weeks after I finished the course, I was given one last chance to go back to school. I took it and, for the first time in my life I actually enjoyed it.
Now I've now been accepted on a course that will help me become a care worker, which is what I want to be. The Prince's Trust made me believe in myself. I'd never been able to do that before. It's because of everyone who supports The Prince's Trust that I managed to get back to school. Without this support, I wouldn't be the person I am today."
Giving a donation will give vulnerable young people the practical and financial support needed to stabilise their lives, helping develop their self-esteem and skills for work.
As part of The Prince's Trust community, you are helping young people across the UK to create a brighter future for themselves, so Thank you for believing!