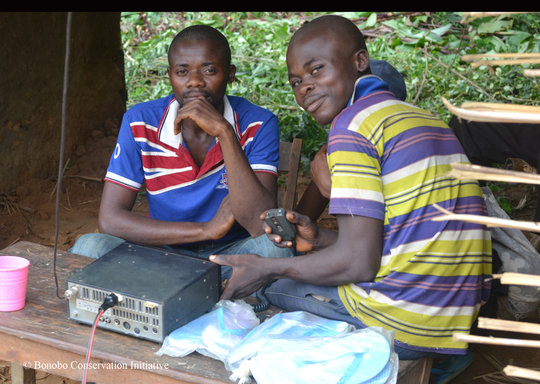 We all know the importance of having the right tools to complete a task. It seems the same holds true with bonobos. A new study reports that our great ape cousins will use tools like branches, antlers, and stones to find and extract buried or otherwise hidden food. The bonobos' complex foraging behaviors observed in the study, led by Itai Roffman, resembled those of human ancestors and could indicate that tool use by great apes dates back to the common ancestor to bonobos, chimps and humans.
Our partners at Lilungu are undertaking a significant task themselves: initiating the process of gaining legal protection for the forests where they live. Lilungu was a significant bonobo research site in the late 1980s and continues to have a thriving bonobo population today. Under recent changes to the Democratic Republic of Congo's forestry laws, communities may request concessions to create and manage what are known as "Community Forests". In order to ensure that the communities involved are actively and fairly engaged, the process involves intensive coordination amongst local communities, communication with regional authorities, and delimitation of the forest boundaries.
Over the past several months, the community NGO at Lilungu—Economie de l'Environnement et de la Nature (ENE)—has secured initial agreements to request the forest concessions. This is a great first step but, there is a need for tools to help our partners complete the process. Forest delimitation (in addition to on-going monitoring of the bonobos at Lilungu) requires field equipment and salaries for trackers. The Lilungu site is also in need of a new HF radio for more efficient communications during the establishment of this forest and for continued protection of the area, once formally established.
We are proud of the progress that the Lilungu communities, under the leadership of ENE, have made with limited resources and we hope that you will stand with us and help us provide the tools to help them complete the job!
P.S. If you would like to read more about our work and its impact, author Deni Bechard's book "Of Bonobos and Men" will be released in paperback format on September 1.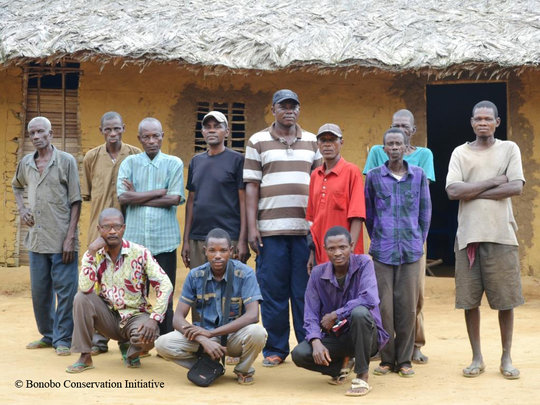 Links:
The last few months have been very busy at the Kokolopori Bonobo Reserve! Just as spring has sprung in the northern hemisphere, new activity and life has emerged at the reserve.
In April, the BCI team visited the reserve and brought some special guests, including:
a scientist from a prominent research institution, who is interested in establishing a long-term bonobo research program at Kokolopori, and

representatives from Wildlife Protection Solutions, an organization which integrates technology systems with anti-poaching and habitat protection programs
We look forward to developing partnerships with both institutions, as they will better enable us to protect and understand bonobos while bringing support to our hard-working monitoring teams. Stay tuned for more developments on this front!
While at Kokolopori, the BCI team also kept busy with our local partners: delivering much needed equipment to our tracking teams, planning for an animal husbandry program for reserve residents with our agronomist Marcel Falay, and meeting with regional partners to plan for further development of the Bonobo Peace Forest—our network of community-managed reserves in the bonobo habitat.
Finally, saving the best for last, we are happy to report that our bonobos continue to thrive. A baby bonobo was born into one of our habituated bonobo groups while the team was at the reserve!

We are hopeful as we look forward to the promise of new life, new livelihood programs, and new partnerships at Kokolopori. Thank you for standing with us and helping us to carry this momentum forward!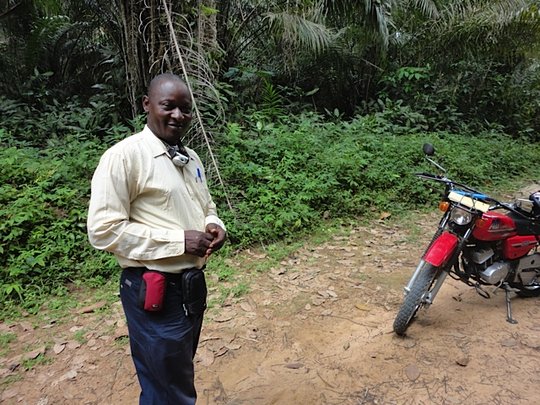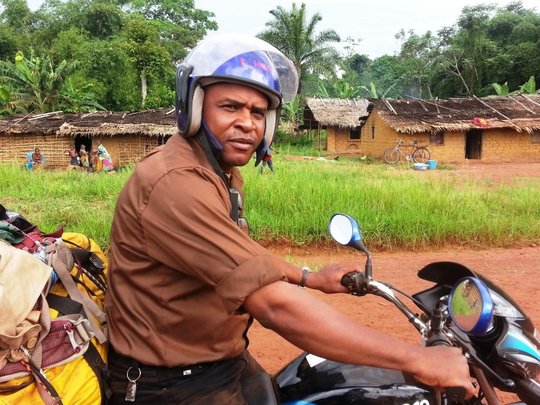 Bonobos are humankind's closest relatives, highly advanced, sharing almost 99% of our DNA. Occasionally, they remind us of just how much we have in common…in the most comical of ways.
Recently, a funny thing happened at Lilungu. One day, a local villager was out tending his fields. He took off his shirt and his hat and hung them on a branch to air out as he toiled in the hot sun. A bonobo snuck out of the forest and snatched the man's clothes! As the man took notice, the bonobo bandit darted into the trees. Swooshing through the canopy, he dropped the man's hat, but kept the shirt! For the next several days, our tracking teams observed the bonobos, playing "keep-away" with shirt, and wrapping it around their neck or waist like a scarf. We've encountered bonobos pilfering pineapples and even cooking pots at Lilungu, but this latest heist is truly exceptional! Needless to say, the shirt was lost to the bonobos, so BCI happily provided the gentleman with a replacement.
Earlier this winter, a BCI expedition team visited Lilungu to reinforce the bonobo monitoring and protection programs at this important site, where we have been working in close partnership with local communities since 2005. It is a critical anchor in the large corridor of community-managed protection we are creating -- the Bonobo Peace Forest. Lilungu is also one of few locations where bonobos are habituated to humans and can be readily observed. This mission brought much-needed support to bonobo tracking teams and will help local Congolese partners to secure official protection for their forest.
We are proud to have forged strong, long-term partnerships with Congolese communities. The simple gesture of giving someone the shirt off our back can go a long way in fostering these relationships and ultimately, the success of our conservation programs. The generosity of our donors is always a crucial element, making all of our progress possible.
Thank you for standing with us!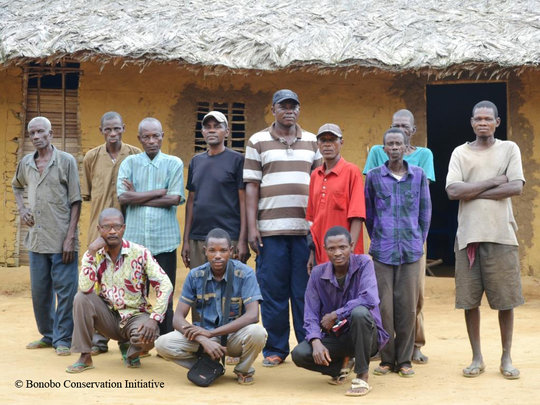 WARNING: Javascript is currently disabled or is not available in your browser. GlobalGiving makes extensive use of Javascript and will not function properly with Javascript disabled.
Please enable Javascript
and refresh this page.