Summary
Integrate Health (IH) exists to end preventable deaths in forgotten communities. By integrating professional Community Health Workers (CHWs) with improved care in public clinics, we are achieving lifesaving results. This report describes progress made over the past three months, including successes and challenges, as well as outputs, outcomes, and funding metrics. Please let us know if you have any questions. Integrate Health is deeply grateful for your support.
Program Highlights
Successes
1. In March, IH trained 230(!) traditional healers in our new Bassar sites on identification of danger signs. The team
was overwhelmed by the large participation and is organizing refresher trainings for traditional healers in pilot sites.
2. Community town hall meetings were held in each of the nine sites, attended by community leaders and members,
clinic staff, IH staff and for the first time, the MOH District Health Director or their representative. Discussion topics
included family planning misconceptions, low ANC completion rates and how to improve clinic staff treatment of patients. This was a unique opportunity for patients to speak directly to their government officials for their health.
Challenges
1. The redesigned Medic Mobile application launched on January 24th, while CHWs and clinic staff continue to paper data collection as backup. In May, IH will assess data consistency between data collected via paper and mobile in the hope of fully transitioning to mobile data collection in our pilot sites.
Expansion Highlights
Successes
1. The IH program team has begun holding community meetings in preparation for expansion into four new clinics
in the Dankpen district in July 2019. IH has successfully recruited two new Community Health Worker (CHW)
Supervisors and one new Clinical Mentor (two women and one man). The community-led recruitment process for
CHWs has begun and 252 candidates, 80% were women, applied for 34 CHW positions.
2. IH program staff presented at two District Annual Review meetings and conducted a "State of the Partnership"
meeting to review three-year program outcomes with the Regional Health Direction. IH staff are now working with
the Regional Health Director on practical recommendations to further integrate IH's approach with the public
sector, such as embedding supervisory staff, streamlining accounting practices and further integrating supply chain.
Challenges
1. Our team is thrilled to be receiving multiple requests for technical assistance from the government of Togo. We
are working to best position IH to respond to and prioritize among these requests. We will begin a strategic
planning process with workshops across the US and Togo, culminating in an updated three-year strategic plan.
2. IH continues to make progress in our partnership with national pharmaceutical distributor, CAMEG. CAMEG has
committed to fulfilling 80% of IH's monthly procurement orders moving forward, up from less than 50% in Q2. IH
and CAMEG staff will meet monthly to assess progress on an ongoing basis.
Organizational Highlights
Successes
1. After almost a year recruitment phase, IH has officially hired a Kara-based Data and Analytics Manager! We are
also happy to welcome to our team a Chief Operating Officer, Finance Manager, Managing Director of Research
and Analytics, Development and Communications Manager and Data Entry Assistant.
Challenges
1. Through the annual audit process it became clear that the outsourced financial firm IH had engaged for the past
18 months was not providing a sufficient service. We quickly made the decision to hire a full time Finance Manager
and have since ended our contract with the outsourced firm. We are very pleased to welcome a new francophone
Finance Manager who brings significant experience, including management of large USAID contracts.
Financial Highlights
Successes
1. IH secured one new funding partnership and received renewal funding from two existing partners this quarter. As
a result, the current fiscal year is fully funded, and we have secured approximately 50% of FY20 budget.
Challenges
1. An application to the AllPeopleBeHappy Challenge Grant was not accepted, and IH's application to the Innovations in Healthcare 2019 cohort was not selected.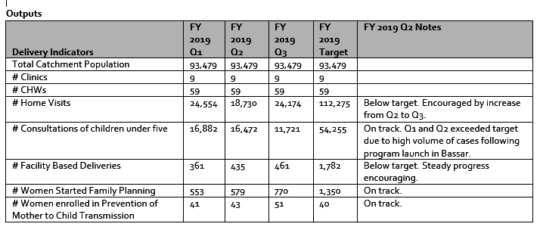 Links: