This event has passed. Watch the recording here: globalgiving.org/disaster-panel
Join GlobalGiving for an exclusive event: "From The Front Lines: GlobalGiving Disaster Response Panel," featuring nonprofits responding to the Japan, Ecuador, and Nepal earthquakes, the Ebola outbreak, and the Syrian refugee crisis with stories and images from the ground in a unique style and format that you won't want to miss.
Date: Wednesday, May 18, 2016
Time: 6:00 pm EDT (Find this time in your city).
Location: You can join in person at GlobalGiving's DC office, or watch online.
GlobalGiving created this event to provide an opportunity for you, our strongest supporters, to connect directly with some of our top nonprofit partners on the ground. Panelists will each present a story in a unique format from their recovery and relief work, and then the floor will be open for you to ask questions directly to our panelists.

Panelists have a limited amount of time to deliver a presentation - 20 images, each with 20 seconds to speak.
Additional details
The GlobalGiving community is made up of large and small nonprofits from more than 165 countries. When disasters and humanitarian crises strike, GlobalGiving is committed to connecting people and companies to vetted, locally-driven organizations that are immediately responding to needs in their communities. Our priority is always to support the work that the affected community believes to be most important.
GlobalGiving listens carefully to find out which needs our nonprofit partners deem to be most critical after disasters. With the support of donors, corporate partners, and funders, GlobalGiving can get funds directly to first-responders within days of a crisis, allowing local organizations to address the most pressing issues quickly and efficiently.
Want more events like this? Let our team know at: projecthelp@globalgiving.org or 202-232-5784
About GlobalGiving
GlobalGiving, a top-rated charity on Charity Navigator, is the first and largest global crowdfunding community for nonprofits. Since 2002, GlobalGiving has helped raise more than $200 million from 500,000+ donors for more than 14,000 projects. Because GlobalGiving works with nonprofit organizations in more than 165 countries, when natural and humanitarian crises occur, GlobalGiving can quickly deliver funds to locally-driven organizations that are best-suited to provide relief in their own communities.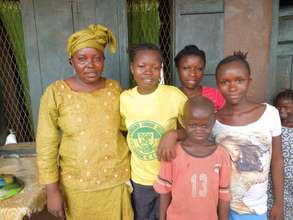 Kidsave's program gives children who have lost their parents to the Ebola outbreak an opportunity to once again find a home. Since Kidsave began its programs in Sierra Leone in 2010, 470 forgotten children have been placed in homes. While most of the children were reunited with their biological family members, some were placed with host and foster care families. Furthermore, Kidsave is planning to launch a program for working moms who have reunified with children, would receive a loan.