Step 4: Rely on your Tribe
Network
The most important part of your crowdfunding campaign will be your network. In order to reach your goal, the majority of your funding will need to come from friends, family, colleagues, and other personal connections. Start your campaign by mapping out your network.
The best way to reach "the crowd" is through your existing donor network
Advocates
Some of your friends, family, and colleagues will be passionate enough about your project that not only will they give, they'll also reach out to their friends and family on your behalf. These are your advocates, and they are the key to your crowdfunding success. Who can be your advocates? Get started by thinking about your board members, current and former volunteers, and past donors.
Next, make it easy for your key donors to become advocates by asking them to share your content and encouraging them to set goals for their own outreach. Give them all the tools they need: links to your campaign page, images, template language for emails, and pre-designed posts for social media.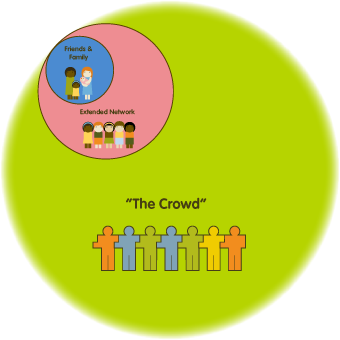 Encourage your advocates to tell their friends why your cause is so meaningful to them. People give to causes that their loved ones care about. Advocates will empower your campaign!
Community
Crowdfunding is just as much about cultivating your community as it is about raising money. You can reach out beyond your immediate family and friends by finding existing communities of people who share your passions, beliefs, and causes. By tapping into already-established communities you can save time and effort because group members are already well-informed about your cause or idea. Find allies and advocates in your book club, professional associations, religious groups, and alumni networks.