Your free gift when you donate $100 to: School for 25 at-risk children in South Africa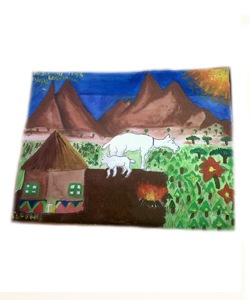 "The most important period of life is not the age of university studies, but the first one, the period from birth to the age of six."

- Maria Montessori

As research proves, early childhood education is the number one factor that gives children a solid start in life. In impoverished communities like the Townships surrounding Cape Town, South Africa, it is critical. Sadly, many of the children who need it most are unable to attend school. Love to Langa is trying to ensure that as many children as possible have access to quality education.

Pay tuition and and transportation fees of $100 for three children for a month and we will send you a lovingly created unique painting by a child from one of our programs. Sizes and ages vary (sizes from 10x12 to 24x18), as we have hosted art workshops for older children as well. Paintings are accompanied by a bio and photo of the artist.