Your free gift when you donate $50 to: The Lunch Box Expansion Project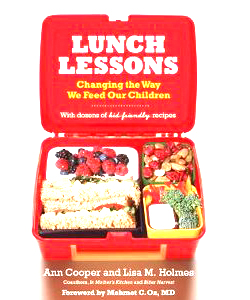 Chef Ann Cooper, the "Renegade Lunch Lady," is the founder and president of Food Family Farming Foundation (F3). She is also a leading advocate for safe, healthy, and delicious school lunch to nourish the bodies, minds, and futures of our nation's children.

You can help F3 change the way schools feed our children. A $50 donation to The Lunch Box Expansion Project will help provide schools with tools and resources to transform school meals. Schools can quickly access recipes and menu planners, training videos, and guidelines and templates that show schools how to purchase, transport and store regional, farm-raised food.

To express our appreciation, we'll send you a signed copy of Chef Ann's Lunch Lessons: Changing the Way We Feed Our Children. In addition to dozens of kid-friendly recipes, you'll learn ways to spark widespread change throughout your community.