Your free gift when you donate $75 to: Support the Grandmothers of AIDS Orphans in Uganda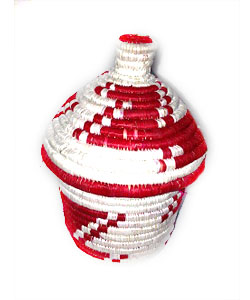 Your gift of $75 will provide a Nyaka grandmother with two goats that will give her family milk to drink and offspring to sell for additional income.

Your help is vital to the health of their families.

When HIV/AIDS caused the death of millions of parents, the Nyaka grannies were there with open arms to the children left orphaned and alone. On average, every grandmother cares for up to 7 orphans.

1 out of every 2 children in rural Uganda are living in devastating poverty. Many will be lucky to get a single meal every day.

Your generous gift of $75 will impact an entire family struggling to defeat poverty.

You will be given a token of our grandmother's gratitude in return - a handmade basket for you to keep forever.