Your free gift when you donate $15 to: Provide a HOME for Kenya's Street-Children 2015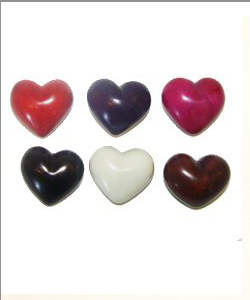 Provide food, shelter, clothing, medical care,education for needy children at the JWHS; a children's home in Kenya. These Children are victims of HIV/AIDS, orphaned, neglected and abandon. The HOME provides three meals a day, medical care, education, tutoring, clothing, gardens, dairy goats and knowledge of sustainable living.

Open your heart to the children and you will receive a hand carved soapstone heart for your donations of 15.00 or more.

Soapstone is a soft stone which is carved with a small knife, dyed and polished. These small hearts can be kept in your pocket, put in dish on the side table, given as a token of love, or used in a larger centerpiece. Give from the heart and receive a heart.