Your free gift when you donate $30 to: Empower Marginalized Young Women in Ghana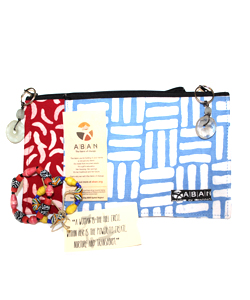 For a $30 dollar donation, we're giving you a Blessing Bag & Bedi Bracelet. This donation will provide childcare for our apprentices' babies for one month! Childcare gives our apprentices the ability to focus on their studies and developing vocational skills.

The Blessing Bag is made from recycled plastic water bags. These plastic bags provide Ghanaians with pure drinking water, yet 60 tons of this plastic ends up on the streets every day due to inefficient trash collection systems. ABAN recycles 10,000 of these plastic bags every month and couples it with beautiful hand dyed batik to create purses and bracelets to sell.

Funds from sales are delegated to a holistic two-year healing program for marginalized and neglected Ghanaian women and their babies. In ABAN's program, women are taught basic math and English, as well as business, savings and elective classes, which teach skills needed to pursue a job after graduating.