Your free gift when you donate $50 to: Help a Trafficking Survivor Heal From Her Trauma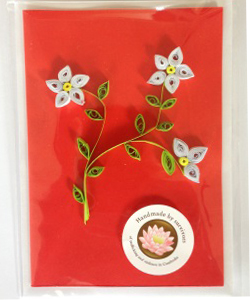 Donate $50 or more to "Help A Trafficking Victim Heal From Her Trauma" and we will send you a card handmade (via the intricate "paper filigree" technique) by one of the dozens of young survivors of abuse residing in our self shelter in rural Cambodia.

Card-making is one of the many handicraft trainings that we offer at our shelter, giving victims of trafficking, rape, and domestic violence both a marketable skill and a therapeutic artistic outlet. To her, this card symbolizes her healing and her dreams for a better future.

Donations will directly support the girls' holistic aftercare including trauma therapy, social assistance, skills training, and small business grants.