Your free gift when you donate $80 to: Help 600 People Escape Floods & Poverty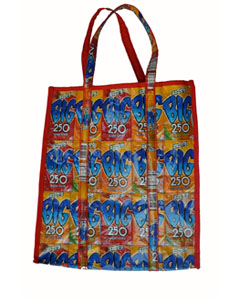 Your donation will help us build an evacuation centre in the community of Banaba. Banaba is on the outskirts of Manila, and is extremely flood-prone. The most vulnerable families often find themselves unable to reach other evacuation centres, so a local community group is now building an evacuation centre in their area.

When you give $80 you'll help us complete the evacuation centre and receive this hand made, fun shopping bag made from recycled juice boxes. The bag measures 17 inches tall by 16.5 inches wide and 5 inches deep. It is waterproof and more than tough enough to handle even the heaviest of groceries.

Manufacture of these bags provides sustainable income for women in the community. This means that your donation will both help us keep vulnerable families safe during flooding and provide dignified livelihoods! Please give today to support livelihoods and keep families safe during flooding!