Your free gift when you donate $50 to: Build Rescue Boats in Flood Prone Communities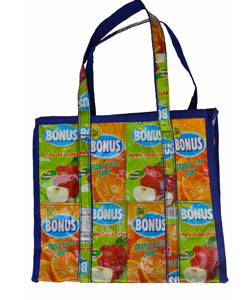 Your gift helps us build rescue boats in a flood prone community on the outskirts of Manila called Banaba. In Banaba, community members are often left trapped during annual floods. Their best chance of rescue lies with community rescue teams, but those teams can't rescue anyone without boats!

When you give $50 you'll help us build boats and receive this hand made, fun shopping bag made from recycled juice boxes. Each bag is made from recycled juice boxes which are collected by the community's poorest members and sold to community production teams which are made up of local women.

Those teams then sew your bag and we deliver it directly to you! Each stage of the production process provides income for vulnerable community members. Your bag has a zip closure and is tough enough to handle your groceries and then some! Each bag measures 13.5 inches wide, 10 inches tall, and six inches deep.

Please make a donation today to support lifesaving recue boats and sustainable livelihoods!