Your free gift when you donate $25 to: Help Filipino Communities Prepare for Disaster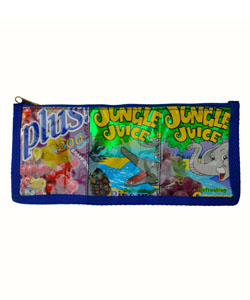 In Banaba, a small community on the outskirts of Manila, the question isn't if there will be another flood – it's when the next flood is coming. But just because we can't stop the weather doesn't mean that there's nothing we can do.

Your donation helps Banaba prepare for flooding by funding flood rescue teams, helping stockpile food in evacuation centres, reinforcing riverbanks, and so much more! In addition to helping vulnerable families make lifesaving preparations for floods, your gift also gives the poorest members of the community a dignified livelihood by supporting the production of wallets.

Your wallet is made from recycled juice boxes which are collected by the community's poorest members and sold to community production teams. The wallets are then sewn by local women and delivered direct to you! Each wallet measures 10" long and 4.5" tall.

Please donate today to support both community based disaster risk reduction and sustainable livelihoods!