Your free gift when you donate $35 to: STEM plus Arts = Learning Full STEAM ahead!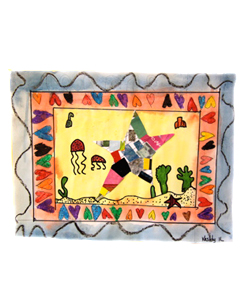 With a donation of $35, you will afford a child's participation in an in-depth artist-in-residency program. Story Tapestries residencies connect students to STEM academic concepts via the arts, engaging every type of learner and generating excitement about learning. In addition to important skills in science, technology, engineering, arts and math, students also learn how to work together, to problem solve and gain confidence in themselves.
Every 26 seconds a student drops out of high school. An artist-in-residency program has the power to inspire youth to attend school and create the possibility for academic success.
Your donation will allow one more child to participate in a unique program that is not only fun for them, but also prepares their teachers with skills and practice at using arts integration techniques long after the residency has been completed. This means your gift keeps on giving for years to come!