Your free gift when you donate $75 to: Give 30 Young Tibetans the Gift of Education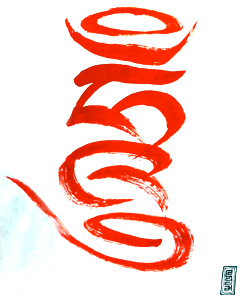 They feed us when we're hungry. Comfort us when we're sick. They are our first teachers, and their lessons last a lifetime. Who in life is wiser or more compassionate than a mother?

This Mother's Day, donate $75 to our campaign to give 30 young Tibetans the gift of education and receive a beautiful piece of calligraphy hand-painted by a master Tibetan calligrapher featuring the Tibetan character "hum." "Hum," the final syllable of the six-syllable mantra of compassion, means unity—unity of wisdom, love, and compassion. And if you grew up in a Tibetan home, it was likely your mother, grandmother, your sister, or another important woman in your life who taught you to recite this mantra. Whatever your background, what better way to celebrate this Mother's Day than by giving back—both to an important cause and to a woman who first taught you what giving means?