Your free gift when you donate $40 to: Planting 1000 trees, Saving 100 acres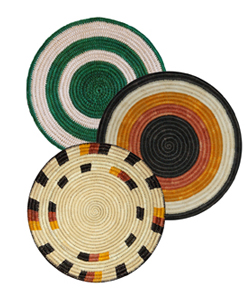 Donate $40 or more and you'll receive a beautiful woven hot pad hand-made by a Bora or Huitoto artisan from the Peruvian Amazon. Camino Verde works with native communities planting trees for the creation of artisanal products, such as high quality essential oils from the highly endangered rosewood. (In one community, we planted 900 rosewood in 2013.)

Meanwhile, our allies at the Center for Amazon Community Ecology work in these communities to plant chambira palm trees, sustainably harvest their fiber, and use it to create innovative handicrafts like these hot pads. Selling such value-added non-timber forest products gives native families alternative ways to provide for their children that do not degrade their forests. Revenues generated by craft sales are returned to partner communities to improve their health, education and forest conservation.

Each hot pad has a tag with the name of the artisan, her community and plants she used to make it with links to photos of all of them.