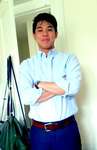 Lucius
Location: México
Occupation: In-the-Field Representative
My Passions: I first visited Mexico in 2011 and quickly fell in love with all things Mexican. Apart from consuming copious amonunts of tacos de lengua, I began to specialize in Latin American affairs and exploring avenues for sustainable, democratic change.
About My Inner Philanthropist (why I give): I believe in supporting causes that promote sustainable change - that means grassroots organizations that are able to sustain themselves and benefit their communities long after we're gone; and empower children and adults through education and technology so that they are able to discover new life-enhancing opportunities.
Lucius's Giving Stats: