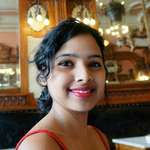 Neeharika Tummala
Location: Toronto
Occupation: In-The-Field Program Traveler
My Passions: I love travel, dance and food! People may shy away from the hustle and bustle of big cities, but I love being in crowds, meeting people who live different worlds than mine and just learning more about the world each day.
About My Inner Philanthropist (why I give): There is so much innovation everywhere as technology changes the way we interact with our environment, in many ways improving our lives. I believe there is a lot of scope for innovation in the non-profit sector too and love supporting organizations who are tackling difficult problems head on.