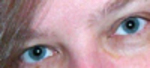 Unilove
Location: Los Angeles, CA
My Passions: I believe in the power of love. I write poetry and read books, and grieve over the loss of my brothers and family. I work hard, play hard, and try hard to be a better person every day.
About My Inner Philanthropist (why I give): I make loans to deserving entrepreneurs on Kiva.org, have funded projects on DonorsChoose.org, and have started to fund projects now on GlobalGiving.com. I strongly believe in the power of education and in giving people a chance to improve their lives. I am loved, and wish everyone could know the power of love.
Unilove's Giving Stats: