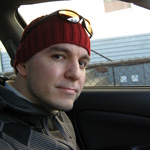 churrul
Location: Providence RI,USA
Occupation: Engineer
My Passions: I love to be around friends, family, and happy people.....I'm fascinated by other languages too. I currently speak spanish, english, french, a little italian and trying to learn mandarin (chinese).
About My Inner Philanthropist (why I give): I feel that I have been given too much in this life...by friends, my parents, and even sometimes strangers. I know that I can never fully repay what I've been given but I think that it's time that I gave a little bit back to the world.
churrul's Giving Stats: