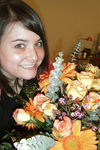 angelsingin4jc
Location: Winston-Salem, NC
Occupation: Nanny for a 6 year old boy and 1 year old girl
My Passions: Music, reading, loving others, photography (other people's...not my own), children, learning, finding out how other people define beauty, being pro-life, being anti-human trafficking, my family, etc. I have too many to list!
About My Inner Philanthropist (why I give): I love people of all religions, races, economic statuses, and walks of life. Why should only the privileged few have access to the good things of life such as education, safety, clean water, and food? I give because God blessed me with an amazing education, a wonderful family, and a well-paying job. I give because I don't need to be so ego-centric.I give because I don't need all that I have.
angelsingin4jc's Giving Stats: