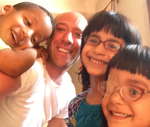 Shawn Coughlin
Location: Royal Oak, Michigan
My Passions: Practicing a healthy lifestyle, running, gardening, sustainable living, travel photography, helping others, learning about other cultures.
About My Inner Philanthropist (why I give): I give because I can and it's the right thing to do. So much has been given to me, it is time to give back to those who did not have the same opportunities as I was given. We are no better than anyone else. We live in a society of excess but I do have faith in humanity. "We must be the change we want to see in the world." and by paying it forward I hope others will follow.
Shawn Coughlin's Giving Stats: