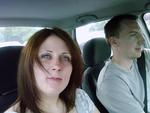 Sarah
Location: North Carolina
Occupation: Logistics Manager
My Passions: My family, my friends and my world. Just trying to make things a little better for all of us.
About My Inner Philanthropist (why I give): Because I have been blessed with so much. Being born a woman in the USA, three healthy children, an excellent job and a man who loves me and supports me. I believe that I was put in this position not because I deserve it but so that I could reach a helping hand out to others.
Sarah 's Giving Stats: