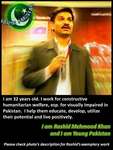 Rashid Khan
Location: Karachi
Occupation: Chief Executive Officer
My Passions: My passion is working for persons with disabilities, social development, environment, education, climate change and seeing the nature in a different way by shooting it.
About My Inner Philanthropist (why I give): I involve in social sector since Feb 2009, and formed a youth group named "Visionary Foundation Pakistan", that is now became a registered NGO in which he is serving as a CEO. I believe that "Giving" is actually connecting your self with "Nature"...because everything in the nature is just "Giving" to others with out any demand, without any terms and conditions.
Rashid Khan's Giving Stats: