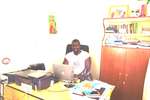 Joseph Stephen
Location: Kisumu, Kenya
Occupation: Farmer/ Project Coordinator
My Passions: I am very passionate about working for the community. I like to see people's lives changing to the best through my community work. I always believe that there are people around the world who need to be helped to overcome challenges
About My Inner Philanthropist (why I give): I grew up in a society where everyone scrambled to survive. A society where hunger, crime, diseases and drug abuse were the order of the day. I saw children, women and disabled people suffering. I have always wanted to at least change lives of some of these unfortunate people and that is what made me to start projects that would ensure that a step is taken towards addressing issues to do with health, poverty and drug/alcohol abuse among youths with disabilities.