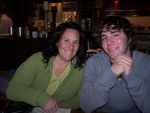 Glenna
Location: California
Occupation: Art Teacher
My Passions: Creativity,teacher of creativity,believer in education.
About My Inner Philanthropist (why I give): I give because it is the right thing to do and it is part of my being. I am very creative but lack in the execution part. I would like to be able to share my philosophy that creativity can be taught to most anyone and that their lives will truly be enriched. Baby steps for me now, and with an organization like Global Giving more avenues and greater participation can be opened up.
Glenna's Giving Stats: